Taer Monastery (also called
Kumbum Mosque) which is located in Huangzhong County is a typical religious building with a history more than 400 years. Taer Monastery is a wonderful architectural complex contains 9,300 structures, including Buddha halls, scripture halls, Buddhist pagodas and lamas residences. Kumbum Monastery is actually comprised of several temples, halls for scripture, Buddhist pagodas and monks' dormitory, and incorporates both Tibetan and Han architectural styles. The magnificent temples and halls are, in architecture, a perfect combination of the Han's style of palace buildings with upturned roof-eaves with Tibetan style under-eave walls and decorations. The spectacular Lamasery is scattered with tall ancient trees and Buddhist pagodas.

Taer monastery is famous lama temple in China, it is the birthplace of lamaism shamanism founder Tsongkhapa, is also the center of northwest Buddhism activity. Taer Monastery is grand and imposing, is one of the famous six big lama temples in China (the other five temples are Tibet Sera monastery, Drepung, Tashilhunpo monastery, Ganden monastery and the Labrang monastery in Gansu province), and enjoys a high reputation throughout the country and Southeast Asia. Taer monastery has 400 years of history. Taer monastery is an ancient building group combined with Tibetan and Han artistic style.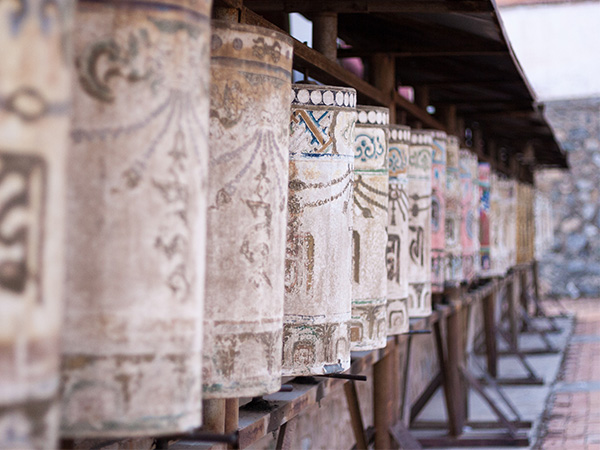 Transport
【By Bus】 In Train Station: Tourists can take special bus line of "Train Station-Taer Monastery" in Xining Train Station, the fare is 3 RMB per person for 1 hour and 40 minutes. In Xinning Road Bus Station: The special bus line from Xining to Taer Monastery departs at every 5-10 minutes. There is low speed bus and high speed bus. Low speed bus is 3 RMB per person for 1 and a half hour, high speed bus is 5.5 RMB per person for 40 minutes. In Xining Management Station Bus Station: There are many long distance buses to Taer Monastery (Huangzhong County), 5 RMB per person for 40 minutes.


【By Taxi】 In the front of road of Xining Management Station Bus Station, there are a lot of taxis going to Taer Monastery. And the taxi leaves if there are 4 people, 20 to 30 minutes will get there.