The
Bird Island in Qinghai Lake ranks the top among the eight birds natural resorts. It is consisted of two parts.
As a result of the mild climate in spring, summer and fall, most of the migratory birds such as bareheaded goose, brown-headed gull, cormorant, sea gull flock from Southeast Asia, India, Burma or South China to Qinghai Lake and breed here in late May.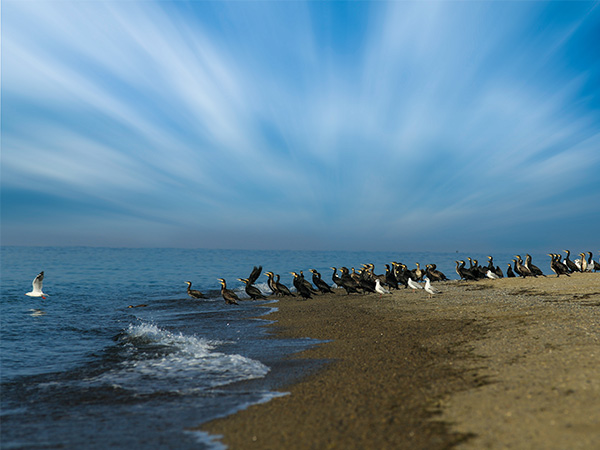 Every May and June, the best time of bird watching, migratory birds fly from faraway mountains and deserts to breed here. It is quite a spectacle of thousands of birds flying over the sky, with their nests thickly dotted and colorful eggs interspersed all over the island. Besides, Haixi Shan, Shadao (Sand Island), Sankuaishi (Three Rocks), Erlang Sword Peninsula, and Qinghai Lake Fishery are scenic spots in Qinghai Lake that are worth visiting.

At that time, all coming into your eyesight is herds of birds in different colors and manners. Some are white, some yellow, and some other diversiform. Some are flying in the sky, some running on the land, others swimming in the water. Birds' eggs are seen everywhere on the land. You seem like coming into a realm of birds. The twitters of the birds sound like a melodious song, which makes sightseers intoxicated. When winter falls, those birds fly back to the south to stay away from the coldness successively. The summer scene in Qinghai Lake is repeatedly extraordinary year after year.

Basic Information
► Best Travel Time: from May to July is the best season for bird watching, the best season for watching whooper swan is from November to February in the next year.
Ticket: peak season from May to October is 115 Yuan, from November to April is 75 Yuan.


► Transport: The most common method of going to Bird Island is taking bus from Xining, there are tickets box in Xining city Changjiang road and Xiguan street intersection. There is a bus at 7:45 a.m. every day going to Bird Island in Xining Long-Distance Bus Station, arrive at 14:30 in the afternoon, cost RMB 48. The return bus departs at 15:00 in Bird Island town on time.

In addition, you can also rent a car to go there. On the way through
Sun & Moon
Mountain you can also let the driver to make a stop, having a show view at religious buildings there. From the Bird Island town to gate of Bird Island scenic area, it is about 16 kilometers, carpooling costs 10 Yuan/person, chartering bus costs 40 Yuan/car can get to the gate of the scenic spot.
Recommended Tour: 7 Days Qinghai-Tibet Train Experience


(Destination: Xining-Lhasa)