On the morning of Aug.1, to tourists' surprise, a wild Chinese giant salamander reaching a length of 1 meter and weight of 4 kg climbed out of water of Golden Whip Stream in Zhangjiajie National Forest Park. When seeing the clumsy and cute giant salamander moving back and forth, many tourists began to take its photos.
After a while, the staff of Golden Whip Stream Management Committee came to the spot and put the giant salamander to a big wooden barrel, releasing it into the Zicao Pool with deep waters.The climate and water quality of Golden Whip Stream Scenic Area are suitable enough for the giant salamander's living. Up to now, 19 activities of releasing a total of over 6200 giant salamanders have been carried out in Zhangjiajie.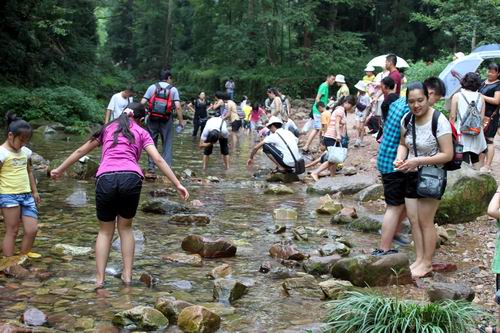 It is very hot with little rain since July, while it is very cool in beautiful Golden Whip Stream. Tourists like playing with water and catching crabs here. It is really funny.