Small Wild Goose Pagoda, or Little Wild Goose Pagoda, is located inside the Jianfu Temple in southern Xi'an city. Together with the Big Wild Goose Pagoda, these two sites are the important landmarks which have been kept from the ancient Chang'an period.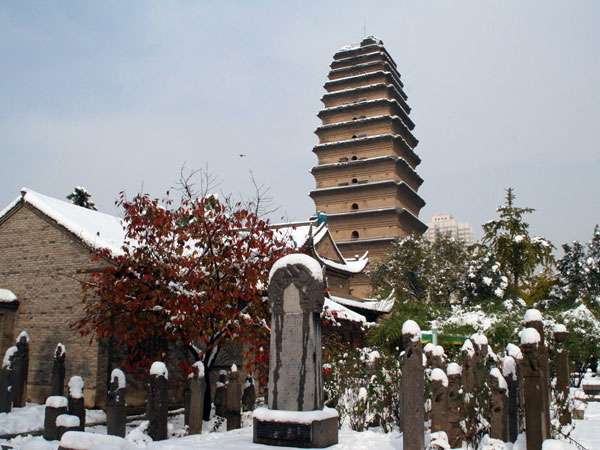 Small Wild Goose Pagoda is one of the most well-preserved Tang Dynasty buddha temples. As one of the famous historical sites in Xi'a, Small Wild Goose Pagoda is reputed as the Tang Dynasty elaborate and valuable Buddhist architectural heritage.
History of Small Wild Gosse Pagoda
Firstly build between 707 – 709 (Tang Dynasty), it was originally built to keep the Buddhist scripts which were carried by the great monk Yi Jing from the Indian area. During the late Tang Dynasty, Jianfu Temple was destroyed while only this pagoda was preserved well.
Without hundred of year renovations and reconstructions, the Small Wild Goode Pagoda was kept its original structure till now. And during the 1970s, this place was possessed by the army, till 1989 it was totally free of the military controlling. And now, this pagoda is a part of Xi'an Museum which is open to the public for sightseeing.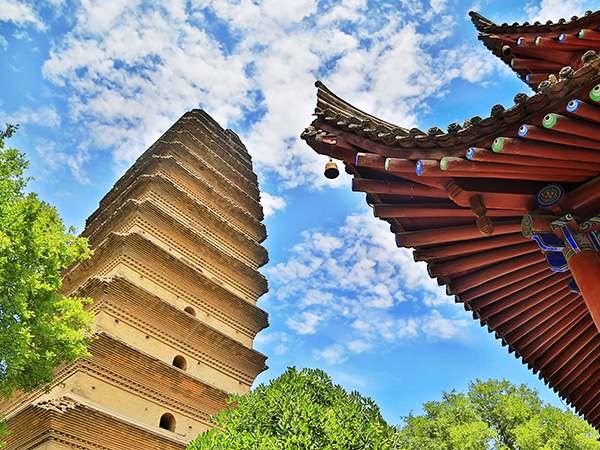 Structure of Small Wild Goose Pagoda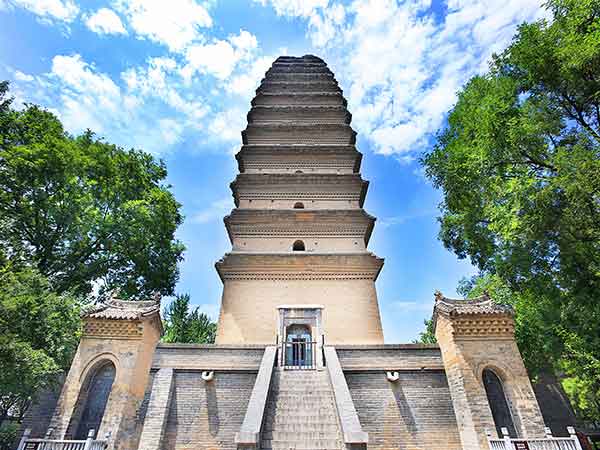 The pagoda stood 45 m (147 ft) until the 1556 Shaanxi earthquake. The earthquake shook the pagoda and damaged it so that it now stands at a height of 43 m (141 ft) with fifteen levels of tiers. The pagoda has a brick frame built around a hollow interior, and its square base and shape reflect the building style of other pagodas from the era.
Magic Bell in Small Wild Goose Pagoda
The big iron bell kept in Jianu Temple has a history more than 800 years. It was originally the collection of an old temple and then lost. During the Qing Dynasty, Emperor Kangxi recovered this bell and transferred it to Small Wild Goose Pagoda. Every morning in that period, the bell would ring. And the voice could be spread widely and cause the place in a mild atmosphere. Small Wild Goose Pagoda and the ancient bell was one of the scenery in the "Eight Scenes of Center Shaanxi".