Hanyang Mausoleum, also called Yang Mausoleum, located in Xianyang City in Shaanxi Province, is the multi-burial cemetery of Emperor Jing of Han and his queen. The tomb was built from 153 BC to 126 BC, covering an area of 20 square kilometers. The Hangyangling Museum has been established, which is a large-scale cultural tourism scenic spot mixing the modern technology, ancient civilization, history, culture and landscape together. It is the largest museum with largest floor space in China.
Diling
Diling in the Hangyang Mausoleum has 86 pit buried with the dead. The distribution of the buried pit and the funerary objects are no doubt related to the aulic institutions; hence, they have great value for the research of aulic institutions, emperors' life, funerary custom of Chinese Han Dynasty. Its excavation plays an important role on the origin and development of gate of tombs, and the formation and the research of the history of ancient Chinese architecture. In the these buried pit, there are densely arranged warrior figure group, storage for piling up grain, ceramic animals like cattle, sheep, pig, dog, chicken, etc. and ceramic, iron, copper life appliances; which comprehensively show the military scene of Han Dynasty.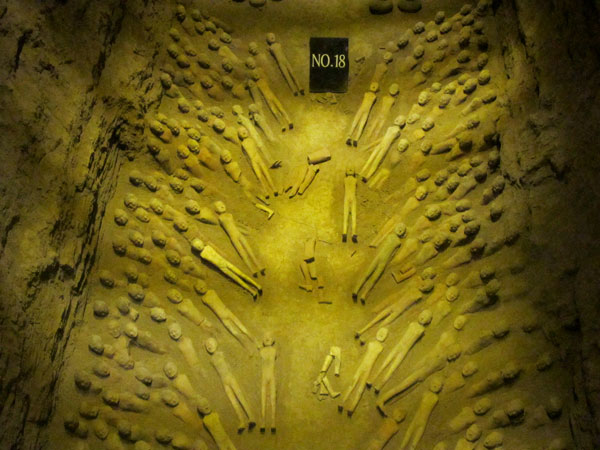 Han terra-cotta warriors
The unearthed figures in Hanyang Mausoleum are very striking. They have only a third of a real person's size, about 60 cm in height. They are naked and have no arms. According to research, these pottery figurine all dressed in all kinds of beautiful costumes while finished; and at that time, their arms are wooden. However, after one thousand years of wind and frost, their clothes and wood arm have been decayed, only leaving the bare and incomplete body. A part of the terra-cotta warriors are women, which mostly are delicate, pretty and shapely; but some have strange features. Compared with the solemn and respectful Qin Terracotta Army, the Han figures seem to be gentle and calm, which is a reflection of the peaceful social atmosphere in "Rule of Wen and Jing" of Han Dynasty.
Subordinate tomb
The subordinate tomb west starts from the east of Diling, covering an area of 3.5 square kilometers. The whole tomb is divided in to several diamonds by the ditches. The tomb is distributed like a chessboard. It has orderly and well-organized overall arrangement, which apparently is designed and arranged elaborately. The discovery of this tomb has important research value.