Sightseeing Tunnel at the Bund connects two best attractions of Shanghai: The Bund and Lu Jia Zui. Creators of the tunnel describe the tunnel as a journey going into the "core of the Earth" and an alternative to the more traditional, clear underwater tunnel which would show only the murky water of the Huangpu River.
Tourists with small children might enjoy this low-tech river crossing option. Overpriced and underwhelming, the sightseeing tunnel takes visitors in small cable cars through a tunnel decorated with neon flashing lights. The travel of the tour is regarded as bizarre and garish by many travelers. The ride takes 5 minute, including includes bright, colored lights and booming voices reminiscent of Wonka's "There's no earthly way of knowing, which direction we are going".
Sightseeing Tunnel at the Bund is located in the Shanghai central area. The entrance in Puxi area is located in Chenyi Square on the north side, bordering the Huangpu River. The entrance in Pudong area is near to the south side of the Oriental Pearl TV Tower, facing the International Conference Centre. It is China's first cross-river pedestrian tunnel. It combines the Bund in Puxi and Lujiazui tourist area in Pudong together, forming the most beautiful landscape of Shanghai.
Features of Sightseeing Tunnel at the Bund
The Bund Sightseeing Tunnel contains the function of both traffic and tourism. It makes good use of the space and modern high-tech means to demonstrate a variety of patterns and music of history, culture, technology, landscape, etc. which makes the ride in the tunnel more interesting, entertaining and irritating to visitors, leaving a good memory. The tunnel has an inner diameter of 6.67 m, with a length of 646.7 meters. It uses the world's most advanced automatic continuous rail car transportation system. The entire ride takes 2.5 to 5 minutes. The maximum transport capacity is of 5,000 passengers per hour. The Sightseeing Tunnel is equipped with 12 escalators and four vertical elevators. Two of them are set up for the handicapped. The dynamic and ever-changing lighting effect, together with the decorative landscape, creates a special view for the travelers.
Have you visited Sightseeing Tunnel at the Bund? If not, it may be an interesting choice for your next trip to Shanghai.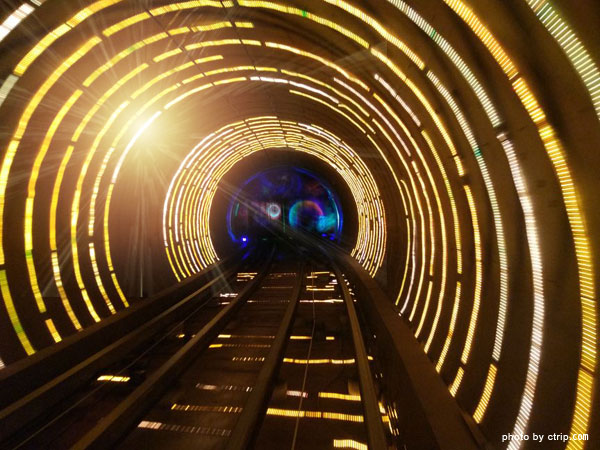 How to Get There
You may take Bus No.82, 85, 583, 872, 65, 55, 21, and 37, then get off at Lujiazui Station. Or take Metro Line 2 and get off at Lujiazui Metro Station.