Located in the southwest of Shanghai, Fengjing Ancient Town is a famous historical and cultural town in China, also one of the eight new attractions in Shanghai. Historically, it was known as Wuyue town because it is located at the intersection of Wu and Yue kingdoms. Today it is Shanghai's most important "gateway to the southwest". Fengjing is a typical town in south of Yangtze River. There is water network throughout the town. the town has numerous rivers and more than 52 bridges. The oldest existing bridge is Zhihe Bridge built in Yuan Dynasty. It now has nearly 700 years of history. There are four ancient buildings, Heping Street, Shengchan Street, North Street, Friendship Street, which are still well preserved. They covers a total area of 48,750 square meters. Fengjing Ancient Town is a existing large-scale ancient water town in Shanghai.
Features of the Town
There are many old bridges, ancient architecture and rambling streets through this old town, about 600 years old if my facts are right. It is still a thriving, working town, not just tourists. Unique customs, simple and honest folkways, and idyllic scenery have made it a typical waterside township in south China. The town is the hometown of folk arts and Chinese rice wine.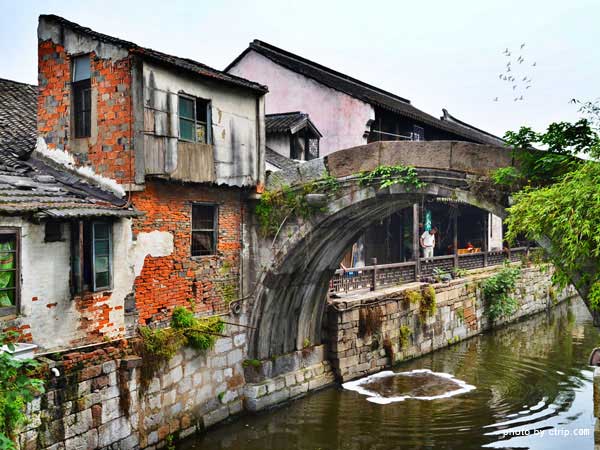 History of Fengjing Ancient Town
Fengjing Ancient Town has a quite long history. About 2000 years ago, people already lived here. 1500 years ago, this place became a bazaar, named Bainiu bazaar. Since the Tang and Song dynasties, Taoist temples are all over the place. And there is an increasing number of human living here. In around 1275, this place formally formed a town. To the Ming Dynasty, Fengjing Town was divided into two parts; the south part was managed by Zhejiang Province, and the north was managed by Jiangsu Province. Until March 1951, the south and north town was merged again. In October 1966, Fengjing Town started to be managed by Shanghai.
Feng Jing is a typical town in Jiangnan. Surrounding water network throughout the town, the town area rivers and bridges have 52 as much as the oldest existing one and bridges caused by the Yuan Dynasty, it now has nearly 700 years of history. Township scale, the town has 29 street, square, 84 lanes or alleys. There is still preserved Heping, producing Street, North Street, Friendship Street four ancient buildings, with a total area of 48,750 square meters (excluding other neighborhoods preserved ancient buildings).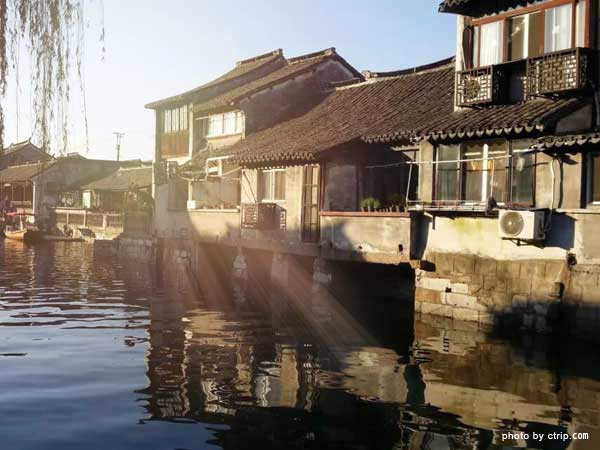 Travel Tips
【Best time to visit】 March, April, September and October are the best time to visit.
【How to Get There】Transportation in Fengjing Ancient Town is convenient. Zhu-Feng highway, Shanghai-Hangzhou Railway, Shanghai-Hangzhou Expressway, 320 State Road and A7 highway are cross the town. It is just one hour drive away from Shanghai downtown, Hangzhou, Suzhou and Ningbo. It is just half an hour drive from Shanghai Hongqiao Airport and one hour from Shanghai Pudong Airport.
Subway: Take Metro Line 1 to Jinjiang Park Station, take Fengmei Line at West Meilong Bus Station, get off at Fengjing.
Buses: Also you can take regular buses at Shanghai Tour Bus Center, Hong Kou Station. There are direct buses to Fengjing Ancient Town each day.