Shennong Stream is one of the most important ports of call for Yangtze Three Gorges tour. It is a 60-kilometer tributary of the Yangtze River, originates in the southern part of Shennongjia Natural Reserve and joins the Yangtze at Xirangkou in Hubei's Badong County.
The crystal clear and unpolluted water flows swiftly. A tour by sampan is just like a shooting arrow. One exciting sport played here is "Gliding in Water". The section of the Shennong Stream earmarked for this game is twenty kilometers long and passes along the Mianzhu, Yingwu and Longchang Gorges. One rides a boat starting in a branch of the Shennong Stream and glides past the four-kilometer-long Mianzhu Gorge and then enters the main stream of the Shennong. The boat glides over the cobble-strewn river bed, its bottom often banging against the stones. It is not without risk yet exhilarating. It is thrilling to battle with the nature.
Drifting on the local "peapod", you'll be able to enjoy not only the beautiful scenery along the River, but also see cliff-wallows swishing in the air, groups of monkeys sporting among the trees, shoals of fish swimming in the clear water, as well as ancient coffins in the rocky crevices left by the Ba people, Shennong colorful pebbles.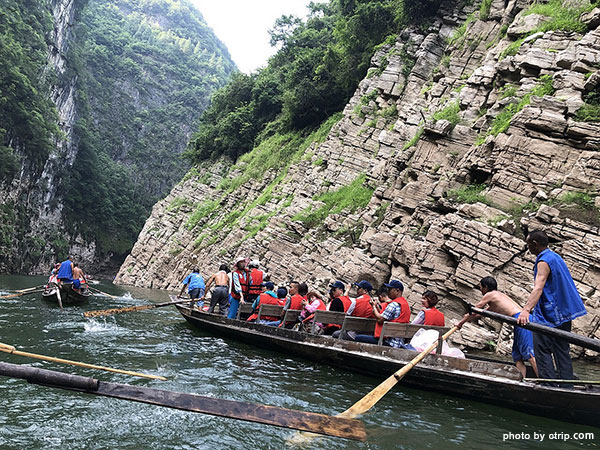 It is newly opened to the outside world, and it has been considered as the highlight of the entire trip. Like the neighboring Lesser Three Gorges in Wushan County, the ancient plank path runs along the river, mysterious ancient coffins suspended high on the cliff, wild monkeys running under the primitive trees and bushes. Dark green clear water, dark green trees, dark green mountains along the stream stretch and disappear into faraway.
The Shennong Stream fascinates the tourists with its special virtues of serenity, uniqueness, primitiveness and wilderness. Floating on a peapod boat, you can appreciate not only the natural scenes all the way, but also the joys and excitement in fighting the winds and waves.