Shapotou Scenic Area is located in the southeastern line of Tengger Desert, about 20km away from Zhongwei County in Ningxia Hui Autonomous Region. Shapotou is near the Yellow River, integrating sand and river scenery together. The Yellow River sources from Heishan Gorge and runs into Zhongwei area. It takes a sudden turn on Shapotou area and gradually flows gently, thus the amazing natural place Shapotou is emerged. The boundless Tengger Desert covers the northern part thickly, while stop along the bank of Yellow River suddenly. Sands form a slope with 2,000 meters width and 200 meters height with a 60 degree angle, it named Shapotou. When in the sunny days, people slide on the slope. There is a sound coming from the slope which is like a sound of the bell. People title this phenomenon as "The Tolling of Bells in Shapotou", and regard it as one of the top 4 resonant sands in China.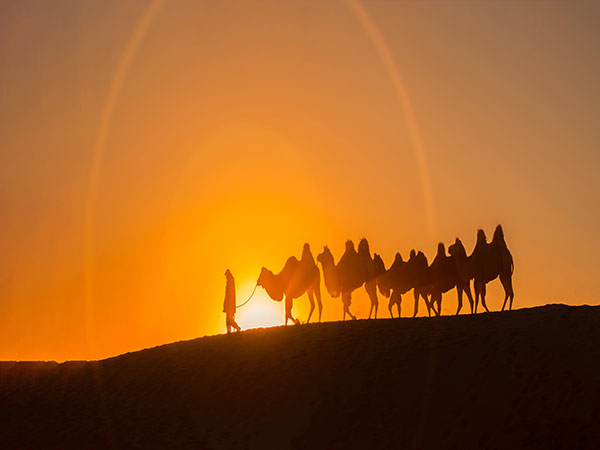 Things to do in Shapotou
► Riding Camel :Camel riding is offered when you plan to have a sightseeing in Tengger Desert
►
Sheepskin Rafting: people can sit on the sheep skin raft which is made of goat skin to have an exciting rafting on the Yellow River

►
Sands Slide in Shapotou From a view, travel is also a project of brave men. Because people who want to have a try of sands slide in Shapotou may need a great courage. The slope for sands slide is in 200 meters length and 80 meters height. It is the largest sands slide area. Between the large sand slope and the bank of Yellow River, there is a strop which titled as "the first strop of Yellow River". If you are brave enough, you may have chance to become a person to "leap" the Yellow River. A warming tips: don't push yourself to experience the strop because it is not a 100% safety experience in the world.


Tips for Sands Slide
1. Keep your body in balance when on the sliding plate.
2. Ensure you can handle the speed and the brake easily
3. People with overweight are not recommended to have this activity
4. People with heart disease and hypertension are forbidden to have this activity
5. Keep your values carefully, don't let them fall into the sands
6. Be careful about the sand fly into your eyes
Shapotou Travel Tips
【Best time to visit】Summer and Autumn
【How to Get】1. Shuttle Bus: Zhongwei Coach Station – Shapotou (CNY 3, 1 hour driving). 2. Taxi: CNY 20 one way from Zhongwei County to Shapotou
【Wearings】1. You need to prepare both summer clothes and winter clothes because of the wide range of temperature in the desert area. 2. Better to wearing a long-sleeve clothes to prevent the sunburn rather than taking sunburn cream.