Xiaotaoyuan Mosque, also called Shanghai Xicheng Hui Ethnic Church, is located in Xiaotaoyuan Street, thus it is the name. Xiaotaoyuan Mosque is one of the famous Muslims activity centers in Shanghai. First built in 1907 and rebuilt in 1925, it is an Islamic church with traditional western Asian architectural style.
Inside the Xiaotaoyuan Mosque
The mosque characteristics the Islamic architectural design in West Asia. Within the entrance you will find a rectangle-shaped courtyard. Around the west side of the hall stands the great worship hall of 500 square meters, which could carry 200 worshipers. The primary hall has 2 storeys. Inside the middle there exists a vault dome, with the Wangyue (Moon Watching)Pavilion topside. A three-storeyed hall building stands on the eastern side of the courtyard, and there exists a library and a reading room on the second and the third floor correspondingly, and a sermon room on the 1st floor. You will find the Imam's room, reception rooms, and bathrooms on the southern side of the courtyard.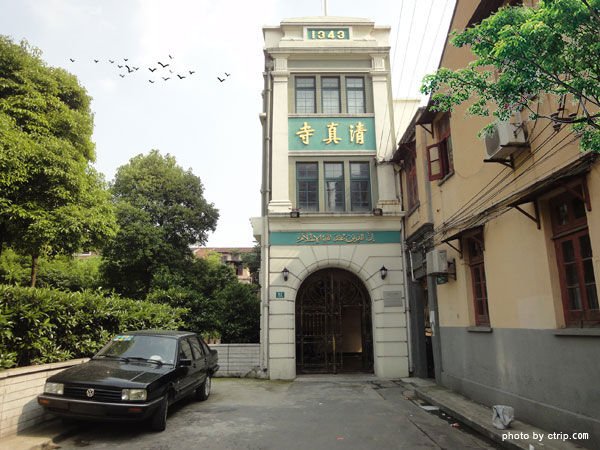 Schools around Xiaotaoyuan Mosque
Since the mosque was founded, it has established several schools, including the Islam Normal School, the Primary School for Muslims, Mingcheng Primary School, Chongben Primary School, and Shanghai Islam Orphanage, etc.
Organization in Xiaotaoyuan Mosque
Xiaotaoyuan Mosque now is an organization consisted of Management Committee of Mosques in Shanghai, Shanghai Islam Association and so on. It is the important place for Muslims in Shanghai or Muslim travellers to Shanghai. Female Mosque is separated built which is located on the southern side of male's one.
From 1920 to 1940, the mosque received and served Islamites who gathered in Shanghai from Shaanxi, Gansu, Ningxia, Qinghai, Xinjiang, etc., and planned to make a pilgrimage in Mecca. Thus it has become the transfer center for Islamites who want to go to Mecca by sea.