Dishui Lake is a landmark project in the main urban area of Shanghai Lingang New City. The main urban area is the urban comprehensive life service area with 5.6 km² Dishui Lake as its center. And Dishui Lake is the existing largest artificial freshwater lake in China.
The design concept of the Dishui lake derived from the overall planning program provided by GMP Co., Germany "a drop of water from the sky fall into the sea with ripple floating layer upon layer; the location of the water-drop form the Dishui lake which has the diameter of 2.5 kilometers and an area of 5.66 km²". In order to improve the water's quality in Dishui Lake, a riverway was built in Nanhui district to introduce the water of Dazhi River (a artificial river) into the Dishui lake and make the water clearer by using some ecological and biological treatment methods.
There are three islands in the center of the lake which are Star Hotel Business Task Island, Leisure and Entertainment Theme Park Island, Marina Sports Activities Island. The three islands extend out annularly and radially, forming city life district, city park landscape belt and urban living area. There is also a toroidal symbol 'drip' in the center of the lake. The Leisure and Entertainment Theme Park Island is located in the north of the Dishui Lake which covers an area of 23.5 km². It is also the largest "pearl" among the three islands. As the plan, there will be an ocean park on the north island with water world, oasis, game tunnel and blue whale performing arts centers. What's more, there will be a landmark building 'cloud tower' which is reaching to the sky and help tourists enjoy a overlook at the scenery of Dishui Lake and the East China Sea. Also, if you are full of passion to your life, why not have a try to the leisure bicycle, motorboat, sailboat, sightseeing boat, and leisure fishing here.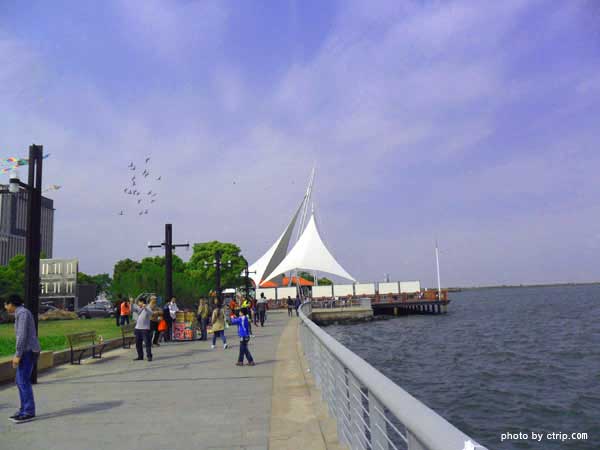 The winter landscape in Dishui lake is distinctive. The cliffs beside the waterfall will be covered with ice, shrubs will be scattered with ice flowers, the external water will become frozen translucent ice bucket with the water still flowing inside. The sunlight plays upon the surface of the water which will produce indeed a splendid sight. As the temperature of the spring water is constant, the green grass grows blossom in four seasons at the foot of the waterfall.