Shanghai Disney Resort is the first Disney Resort in mainland China and the second within the whole China region. There is already one in Hong Kong, which opened in 2005. Shanghai Disney Resort is located in Chuanshan New Town, Pudong New District, Shanghai, China. The resort will cover 963 acres in Pudong, Shanghai, approximately 3 times of the size of the Hong Kong Disneyland Park. Shanghai Disney Resort includes a theme park (Disneyland Park), two themed hotels (Toy Story Hotel & Shanghai Disneyland Hotel), shopping and dinning complex (Disneytown) and Wishing Star Park. It is built to host as many as 100,000 visitors each day.
What to Do and See in Shanghai Disney
Shanghai Disneyland Park with six themed lands is the theme park to have fun in the resort: Adventure Isle, Gardens of Imagination, Tomorrowland, Mickey Avenue, Fantasyland and Treasure Cove (based on the Pirates of the Caribbean films). The park will ring the Enchanted Storybook Castle – the tallest in any Disney park that offers performances. The resort also features two themed hotels, a Grand Theater with a Chinese-language production of the Broadway hit "The Lion King", a Disneytown for shopping and dining and Wishing Star Park, and a 99-acre recreational area with gardens, lakes and parkland. Mandarin-language stage production of the musical The Lion King, which will be a separate admission, is Broadway-style show. The two themed hotels are "Toy Story"-themed hotels and Shanghai Disneyland Hotel, which not only offer a bed to stay overnight, but also provide a lot of fun for you to discover. In a word, the resort being an entertainment complex will offer a variety of things for you to explore.
【Disneyland】
Like most other Disney Resorts around the world, Shanghai Disney Resort features a flagship park called Shanghai Disneyland. And the park is divided into different parts featuring different fun. You may stroll along Mickey Avenue, where collects all kinds of shops and restaurants, and you can enjoy delicious food and shop for gifts and souvenirs in this place. Having fun at Adventure Isle, Gardens of Imagination, Tomorrowland, Fantasyland and Treasure Cove areas would be fun and exciting, with all kinds of thrilling rides and adventures.
Also, there are a lot of entertainment activities and performances put on every day. You can not miss them.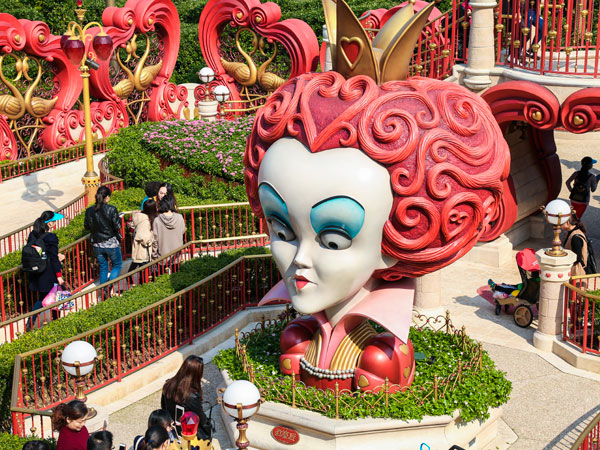 【Disneytown】
Disneytown is located right next door to Shanghai Disneyland. It is a district for shopping, dining and entertainment. The first-ever Mandarin stage presentation of The Lion King at Walt Disney Grand Theatre in the town is worth seeing. At World of Disney Store, you will find stores and kiosks featuring local brands and trusted names from all over the world and selling all Disney things, such as accessories, apparel, jewelry, pins, toys, collectibles, plush, etc.. Being hungry after a long time walking? Fine Shanghai local and international food can be found here.
【Wishing Star Park】
Located along the shoreline of a beautiful lake, Wishing Star Park offers visitors a chance to indulge in the splendor of nature. It is a perfect place to embrace nature and enjoy a tranquil escape to the banks of a glimmering body of water where rest, relaxation and activities is available for the entire family.
Accommodation in the Resort
There are two themed hotels in the resort. One is Toy Story Hotel, the other is Shanghai Disneyland Hotel. As both the hotel is not located inside Disneyland Park, you will need to purchase ticket for second entrance if you want to enter the Disneyland Park for two days. Staying in the hotels doesn't mean that you can free second entrance to the Disneyland area to have fun.
Toy Story Hotel is a perfect place for family fun for all ages. The Toy Story Hotel, with 800 rooms, will feature the Sunnyside Cafe, which is decorated with Chinese-style kites flown by Disney characters. When you step into the hotel, you enter a world of imagination inspired by the Disney•Pixar film series, where playthings come alive and there's adventure around every corner. Stay here to have fun with your kids or to be a kid again.
The Shanghai Disneyland Hotel, with 420 rooms, offers a free water taxi service across the Wishing Star Lake to the theme park, interesting. Featuring a breathtaking 3-story lobby, an amazing indoor pool, sumptuous dining, play areas and more luxury facilities, the Shanghai Disneyland Hotel is a destination all its own. This hotel is sited on the shores of a shimmering lake, and every detail is designed to make your stay unforgettable and interesting. This hotel not only offers luxurious experience for adults, Before or after your theme park fun, kids of all ages can relax, have some fun and discover adventures right here.
In a word Shanghai Disney Resort reflects Disney's legendary storytelling along with China's own rich culture, and showcases some of the most creative and innovative experiences you've ever created. You should not miss it while traveling to Shanghai.
Tips
Visitors need to go through security check before entering the Disneyland. Any opened food package or water is not allowed to take into the park. Unopened food package or water is allowed to take into the park. There are canteens and restaurants inside the park, where mainly offer set meal. The cost is generally 80-100 Yuan/person for a meal for adults, 60 Yuan/person for children.
There are regular stage performances and parades inside the park, and the broadcasts are bilingual; the drama is based on Chinese-speaking; There are free maps and schedule form of performance at the entrance of the park.
There are clinics and toilets (Chinese and western types) everywhere, as well as family bathrooms. And there are baby strollers for rental in the park, 50 yuan/day.
As for tranport info of Shanghai Disney, you may read How to Get to Shanghai Disney for the details.
Shanghai Disney Resort Map