This outdoor show is another product by Zhang Yimou who had directed Impression of Liu Sanjie in Guilin.Combining 500 actors, 100 horses, a 360-degree open-air theatre stage at 10, 170 feet above sea level with Jade Dragon Snow Mountain in the back, the only word that comes to describe the music, choreography and magnificent outdoor setting is "incomparable".
All the actors of the Impression Lijiang Show are not professional actors. They are from 10 different ethnic groups. They are all local farmers from the 16 nearby villages. They bring people a spiritual shock with their pristine voice, hot sweater and the authentic dances with the heaven and earth.


Impression Lijiang Show
The Impression Lijiang Show is played at Blue Moon Valley Theater, Ganhaizi of Jade Dragon Snow Mountain, Yulong County, Lijiang. It is another large live-action show after the Impression Liusanjie Show in Guilin, by same creative team. The total investment for this show is about 250 million CNY. Part one is Impression Snow and Part Two is Impression Acient Town including 6 acts, e.g. The Caravan on Ancient Tea-horse Road, Drinking in Front of the Snow Mountain, The Heaven and the Earth, Dance Songs, Drumimg Dance for Worshiping Heaven and Blessing Ceremony. The Impression Snow Mountain is played to describe a dialogue between human and mountain, expressing the close relationship between human and nature. The Impression Ancient Town is played as a dialogue between human and their ancestors, showing that there is always a divine kingdom deep down in people's heart from the ancient times. The Impression Snow is played with the snow mountain as background, combining the wonderful natural scenery and colorful folklore culture to display the life's reality and shock at the highest stage in the world with 3100 meter above the sea level high.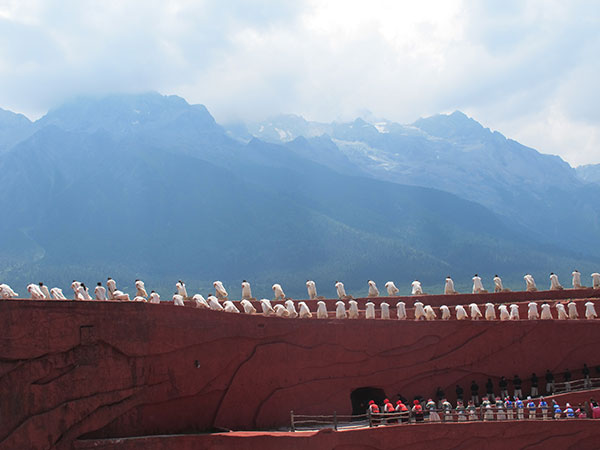 Impression Lijiang Show
Show time: 09:00, 12:00 and 14:00, depending on seasons
Duration: 60 minutes
Entrance fee: CNY190 per person for standard seat; CNY260 per person for VIP seat
Note: It can be arranged after your tour to Jade Dragon Snow Mountain.