Located in downtown of Kaifeng City, Henan Province, China, Qingming Riverside Landscape Garden in Kaifeng is a theme park showing the culture of the Song Dynasty. It was the copy of the painting The Festival of Pure Brightness on the River, which was drawn by the famous painter Zhang Zeduan in the Northern Song Dynasty. It is the only archaized theme park in China that takes a picture as prototype.
The garden has the largest Song building complex in central China plains. This garden illustrates the bustling scenes appeared in the picture and also enlivens the history of the Song Dynasty. In addition, the garden puts on a series of be timed local customs and performances every day, leading visitors back to the world of thousand years ago. Every year from mid-October to mid-November, here will hold chrysanthemum flower show; in the fifteenth day of the first month of lunar year, here will hold Lantern Festival, and "Guessing lantern riddles" is an essential part of the Festival.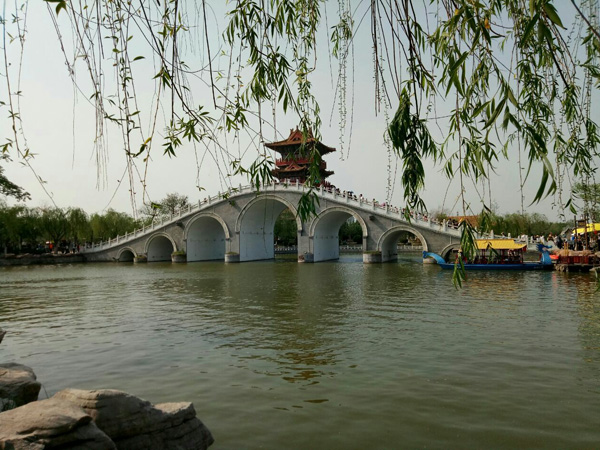 The garden restores such folk entertainment items as women soccer, swing on water, cock flights, imperial shadow play, puppets on water and dance to the chine music. In the evening, a large-scale performance will help you review the scenes of the ancient Song Dynasty.
In addition, there is a food street inside the park, where you can taste all kinds of local snacks in Kaifeng.
Main Sites to Visit in the Garden
【Fuyun Pavilion】: it is about 32 meters high with four layers in total. Here is the perfect place to have a bird view of the garden. And here collects traditional Chinese paintings and important court documents.
【Xuande and Xuanhe Palaces】: the palace have the same shape, and they look like gate tower closely, but like palace afar. In the two palaces put on Chinese shadow puppetry and Chime dancing show every day.
【Qu Yuan】: it is a paradise for kids. Here you can play darts, archery, climbing rope, swing, slip slide, etc.
Travel Guide
【Chinese name】: 清明上河园
【How to get to The River Garden in Kaifeng】: You may take Public Bus Route 1, 4, 5, 9 15 16, 20 in Kaifeng downtown to get there.