Qingjing Mosque, literally known as the Pure and Clean Mosque, was built in 1009 on present-day Tumen Street in the city of Quanzhou, Fujian, China, covering an area of 2,500 square meters (27,000 square feet). As the oldest existing mosque with the Arab architectural style in Xiamen, even in China and well known to the Islamic world, it was designed after the mosque in Damascus of Syria and built with pure granite.
This mosque features with a gate, the Fengtian Hall, and the Mingshan Hall. Facing south, the gate is made of diabase & white granite and consists of four conjoined archways. Its pointed-arch portal, 20 meters high, has three layers. The outer and middle layers are similar to the caisson ceiling in Chinese ancient architecture. The vaulted inner layer took on the architectural style of ancient Arab. It is clear that architecturally, the mosque is a combination of Chinese and Islamic styles. Standing under the vault, one can realize the time-honored cultural exchanges between China and foreign countries. Many of the gate's domes are carved with hanging lotus, symbolizing the respect for purity and sanctity. Each carved lotus is surrounded by a web of liernes, which add depth to the carvings. A platform on the roof of the gate allows worshipers to watch the moon and decide when Ramadan begins.
To the east of the gate are two stone tablets recording the reconstruction of the mosque in the Yuan (1271-1368) and the Ming (1368-1644) dynasties. Another stone tablet is located just near the gate, engraved with the imperial edict of Zhu Di – the third emperor of the Ming Dynasty. He spread this edict to protect the Mosque and the followers of Islam in China.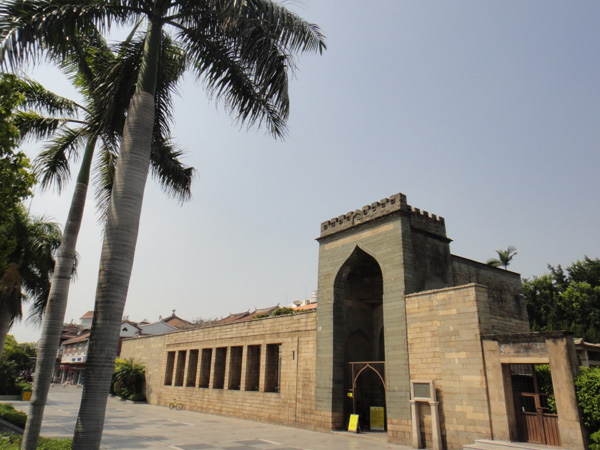 History Background of Qingjing Mosque
Constructed in 1009, the Arab style mosque is the oldest of its kind in China. Many Song dynasty mosques were built in this Arabian style in coastal cities, due to communities of Arab merchants living in them.; Throughout the Song Dynasty (960-1279), Quanzhou City was one of the key ports of foreign trade and attracted many Arabs. The mosque, built and repaired by Arab Muslims, reflects the friendship and cultural exchange between China and Arabic countries.
How to get to Qingjing Mosque
It is easily reached by public bus in Quanzhou. The nearest bus station includes Huaxiangkou Bus Station, Fuwenmiao Bus Station, or Guandimiao Bus Station. The most convenient way is to take a taxi.