Qingdao Polar Ocean World is a compound park that combines eating, living, traveling, shopping and playing with ocean world as its thematic mark. It was designed as one of the seven planned traveling programs for the 2008 Olympic Games in Qingdao. The whole park consists of several parts, including Ocean Technology Museum, Polar Ocean Animals Museum, Bars and Catering Street, shops with sea view, fisherman's wharf and 4-star sea view hotel, etc. here has the largest ocean theater which can accommodates 2800 visitors. The world looks like a sail with a height of up to 31 meters.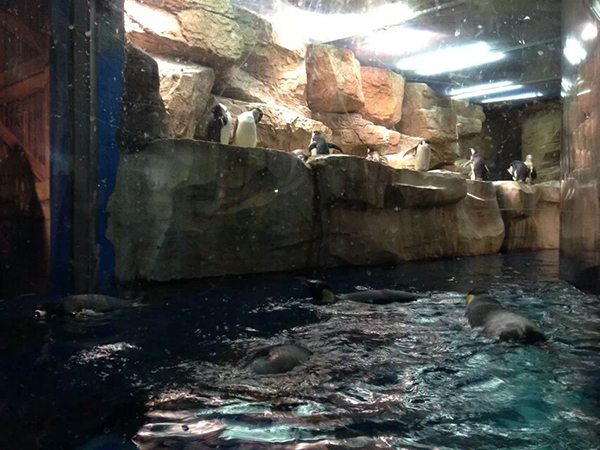 Qingdao Polar Ocean World has 36 exhibition halls, among which the polar marine animals hall is the core part of the park. It is currently the largest marine animal's hall with the most complete polar marine animal species and the largest number of exhibition venues. The hall showcases marine animals from South and North Poles. Visitors can watch the beluga whales, walruses, sea lions, seals, Arctic sea otters, polar bears, penguins, arctic wolves and other rare polar animals in a simulated polar environment. Visitors can also enjoy performances played by these large marine mammal animals.
There are a lot of many animals participating in their animal "Olympic Games" every day, including whales, sea lions, dolphins and walrus performances. In some parts of the world, the animals swim right up next to the glass so visitors just feel like that the animal is swim right in front of you.
Show Time & Venues
【Happy Theater】: Killer Whale, Sea Lion, and Walrus Show
【Show Time】: 10:20 a.m.; 1:20 p.m.; 3:20 p.m.
【Polar World】: Dolphin and White Whale Show
【Show Time】: 9: 30 a.m., 11:10 a.m., 2:10 p.m., 4:30 p.m.
Travel Guide
【Chinese name】: 青岛市崂山区东海东路60号极地海洋世界
【How to get there】: You can take Bus 222, 225, 232, 316, or 403 and get off at Haiyou Lu Station; or you can take 110, 125, 301, 304, 311, 321, 382, 501, 632, then get off at Wangjiamai Station. Of course, taking a taxi is the convenient way to get there.