Qingdao Golden Sand Beach is located in the southern tip of the Shandong Peninsula of sea shore in Phoenix island Huangdao District of Qingdao City and is close to the Bohai Sea. The beach is more than 3500 long and 300 meters wide, stretching from the east to the west like a crescent. It has clear sea water, flat beach, and soft sand with gold color. That is why it got its name "Golden Sand Beach". It is one of the most beautiful beaches in China.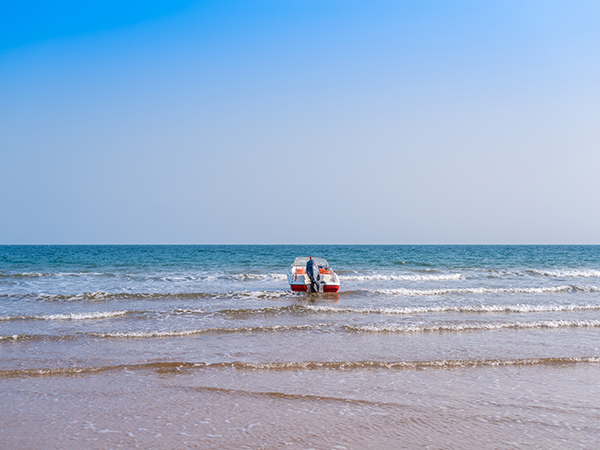 Qingdao Golden Sand Beach is has the finest sand, the largest area and the most beautiful view in this country, so-called "the First Beach in Asia ". except for the beautiful sea view, there are a variety of activities offered for visitors, including seaside leisure, entertainment, dining, sports, consulting services. Visitors can make sand sculptures, do kite flying, swimming, take the cable car to explore the beach shoreline, take beach airplane ride, boat ride, ride water bike, and also experience water walking ball, carousel, pirate ship, children's playground and other rich activities. visitors can go yachting, speed boating or surfing. Football and volleyball matches are held on the beach, as well as musical performances and evening parties.
The waves, which lifted by sea breeze blown from the Yellow Sea, always rush into the beach in threes and fours, which makes the long and narrow more splendid. Gold Sands Beach is famous for its "three treasures": Sea cucumber, Abalone and Crab, which are delicious and nutritious when prepared fresh. They are big fat with high nutrition. It is said that you have a prolong life after eating the "three treasures".
In addition, A festival called 'Cultural and Tourism Festival' has been held annually on Golden Sand Beach since 1998. The opening and closing ceremonies are the highlights of this festival. Many famous actors, singers and artists will be invited to perform, sing and entertain. Visitors can also participate in a variety of interesting activities such as football and volleyball matches, cross-country races, etc.
It is good to have a relaxing bath in the bathing area, then camp on the beach and enjoy the beautiful night.
Travel Guide
【Chinese name】: 金沙滩
【How to get there】: To get to Golden Sand Beach, take the ferry from Qingdao Ferry Terminal to Phoenix Island (Xuejia Dao), and then take the No. 4 city bus. Another way is to ferry from Qingdao Ferry Terminal to Huangdao Ferry Terminal, and then take the No.1 or No. 18