Situated in in Minhang District, Shanghai, Qibao Ancient Town is an ancient town about 15km south of Shanghai city. it is the closest water town to Shanghai The town is very small about two square kilometers in size and visitors can conveniently walk everywhere. It is crossed by two canals. Along the canals, there are a large number of traditional houses, restaurants and shops. Recently tourism has been actively encouraged and it makes a good daytrip from Shanghai city.
The formation of Qibao Ancient Town can be traced back to the Five Dynasties and Ten Kingdoms period, to the Northern Song Dynasty. The name of the town comes from the local temple, "Qibao Temple".
Hightlights of the Town
The town offers a glimpse of traditional China, with buildings that have been refurbished offering museums, shops, restaurants, gardens, and tea houses.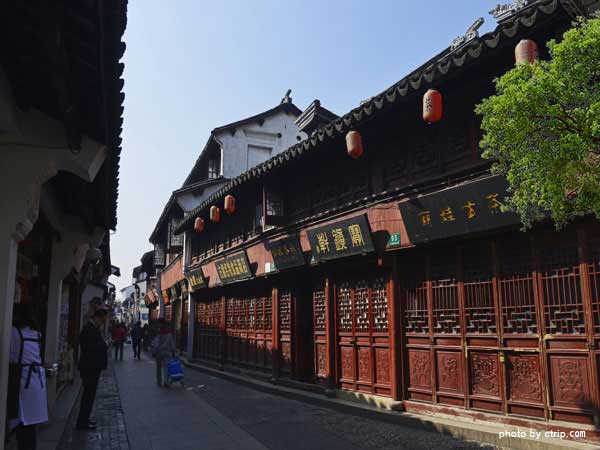 【Qibao Temple】
Qibao Temple is located at the east of the town. The temple has been existed sine the forming of the town. So it owns a long history.
【Qibao Distillery】
Qibao Distillery is situated at the center of the city. it is an old factory that is used to make wine.
【Qibao Old Street】
Qibao Old Street is divided into the two sections: the southern street and the northern street. The south street features with local snack. It homes many delicious snacks all over China. The north street is given priority to with tourism souvenirs, including antiques, calligraphy and paintings. Qibao Old Street has become a busy street that combines leisure, tourism, shopping as a whole.
Qibao is known for its specialty in cuisine. It is home to one of the most popular food streets for Shanghainese. The cuisines here include pigs' trotters, stinky tofu, steamed stuffed buns, banana rice in bamboo tubes, lamb and rice wine, etc. Visitors may have a try to the local snacks while strolling at the street here. They will surprise you.
How to Get to Qibao Ancient Town
You may take Subway Line 9 and get off at Qibao Station, take exit 2 out of the station, walk towards the road junction and take a left turn. The entrance to Qibao ancient town is a huge gate, hard to miss. It takes approximately 30 minutes by metro from Shanghai downtown. Or you can take Bus 87, 91, 92 or 911 to get to the town.
Although Qibao can be touristy, prices are comparatively cheap.