Sited in historic Hongkou District, 1933 Old Millfun was built amidst the vibrant urban landscape of turn-of-the century Shanghai. The precursor of 1933 Old Millfun was Shanghai Industry Bureau Slaughter House, which was designed by an famous British architect, Balfours and constructed in 1933.
1933 Old Millfun is in the central city yet is surrounded by roads and water. It is a 5-layer building, which are peculiarly arranged into a square with an inner circle. Four buildings in the four directions constitute the square factory area and are linked to the central 24-side main building through stairways. Buildings at different heights and spiral galleries are designed as complex as a maze but in clearly demarcated orders. The flat slab for the processing workshop was very advanced at that time. Until the refurbishment, it had largely lain in ruins. However, that unfashionable past has been turned on its head, and given a marketing spin to draw attention to its former incarnation as a slaughterhouse. Think along the lines of Les Halles (Old Central Market) in Paris or the Meatpacking District in New York, and you will have an idea of the inspiration behind 1933 and its future direction.
With these historical buildings blended with modern fashionable elements, 1933 Old Millfu has become a new landmark of Shanghai. It is generally positioned as a place that absorbs the upscale and fashionable quality of the vitality of Xintiandi, Bund 18, and the artistic atmosphere of Tianzifang, combines creative productions and creative experience, and assimilates interaction and inspiration. Fashion show, press conference, new product release conference, intellectual property rights exchange meeting, mini concert, meet & greet, TV program production, customerization of all brands, exhibition of brand commodities, etc. are often held in this place.
Features of 1933 Old Millfun
【 Umbrella-shaped Columns】The entire building is with no columns structural design inside. More than three hundred Umbrella-shaped columns are evenly distributed over the periphery of the square building, independently support the majestic building. Octagonal and quadrilateral umbrella-shaped columns are one of the most important features of the building.
【Gallery Bridge】
Gallery Bridge is one of the most characteristic things of the building. There are a lot of gallery bridges connecting the building, which is quite rare in other buildings in the country.
【Latticed windows】
Hollow concrete lattice windows are mainly used in the western wall of the building. The all cement which was used to make the lattice windows came from the United Kingdom in 1930 with strong and durable.
【Sky Stage】
There is a sky stage in the forth floor inside 1933 Old Millfun. The stage has an area of over 1500 square meters, eight meters high. It has mad of tempered glass, transparent but strong.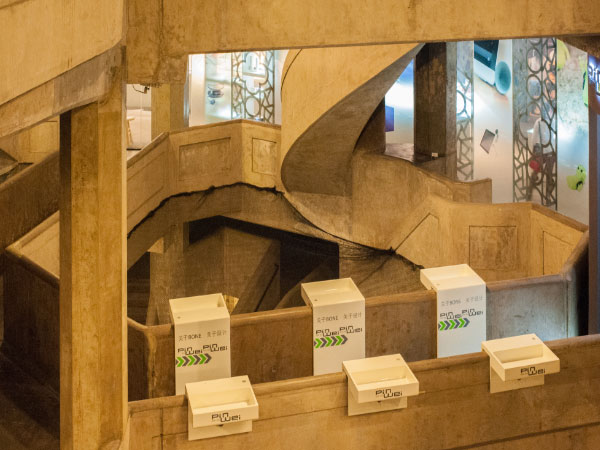 Travel Guide
Year of construction: 1933
Architect: Balfours
Building area: about 31,700 square meters
Structure: reinforced concrete structure
Number of floors: 5F
How to get there: Take Subway Line 4 and get off at Hailun Lu Station