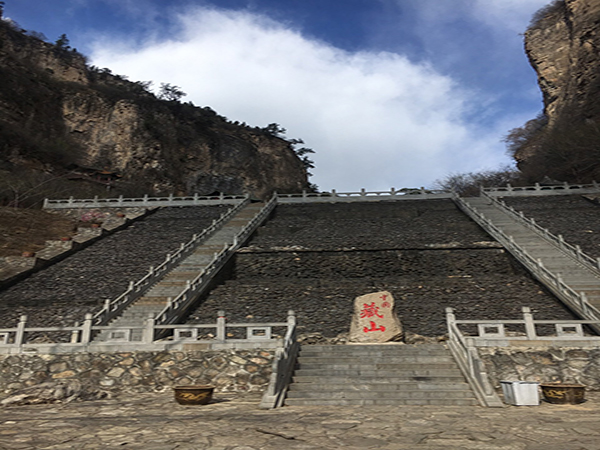 Mount Cangshan (藏山) in Yu County, Yangquan City in Shanxi
,, located on the west side of Taihang Mountains, is famous for a historic story occurred in Spring and Autumn Period named Zhao's family orphan.
Cangshan, original named Yushan, now is national 5A scenic, about 18km away from Yu County in Yangquan City in Shanxi Province. Cangshan mountain faces Shijiazhuang City in the east, links Taiyuan City in the west, lies Wutai mountain and Xibaipo in the north, and stands opposite Niangziguan in the south. It is said that during the Spring and Autumn Period, Zhao Shuo (an official of Jin Country) was killed because of political reason. Zhao Shuo left his son to Chen Ying. Chen Ying took Zhao Shuo's son Zhao Wu into Yushan (Cangshan Mountain) for 15 years. Thus, people used Cangshan instead of Yushan which means a mountain for hiding. Cangshan is a pleasant place which can bring tourists a picture of Chinese traditional mountain scenery – valley, cave, waterfall, and forest. Besides, the ancient architectures which are built along the mountain are as beautiful as a picture. This fairy land is titled as the No. 1 mountain in Eastern Jin Area.
Culture of Mount Cangshan
Famous for the historic story Zhao's family orphan, Cangshan mountain in Shanxi has a history over 2,000 years. Besides the well-kept relics of Zhao's orphan story, there are more than 30 ancient architectures in high values for people to appreciate. From the historic view to say, no Cangshan mountain, no Zhao's family orphan, thus no Zhao family name in China.
About The Orphan of Zhao
【Historic Record】 In Shih Chi, Chapter 43 Zhao Family (赵世家) recorded, Zhao Shuo's family was killed by Jinjinggong (King of Jin Country in Spring and Autumn Period) around A.D. 597. Zhao Shuo's son Zhao Wu was survival from this disaster and raised up by Chen Ying and Gongsun Chujiu. When Zhao Wu grown up, he recovered Zhao's family with a help from Han Jue's power.
【Yuan Ear Play】 The Orphan of Zhao (趙氏孤兒) is a Chinese play from the Yuan era, attributed to the thirteenth-century dramatist Ji Junxiang (紀君祥). The play has as its full name The Great Revenge of the Orphan of Zhao (趙氏孤兒大報仇). The play is classified in the zaju genre of dramas. It revolves around the central theme of "revenge".  
【Movie】 Sacrifice (Zhao Shi Gu Er) is a 2010 Chinese historical drama film directed by Chen Kaige and based on the Yuan Dynasty play The Orphan of Zhao.The film was distributed in the United States by Samuel Goldwyn Flms.
• English name: Sacrifice (Zhao Shi Gu Er)
• Chinese name: 趙氏孤兒
• Directed by: Chen Kaige
• Starring:  Ge You, Wang Xueqi, Huang Xiaoming, Fan Bingbing, Zhao Wenhao, Vincent Zhao
• Running time:  124 minutes
• Country: China
• Language: Mandarin
• Release date: 4 December 2010