Madame Tussauds Hong Kong is located in Lingxiao Pavilion on the top of Victoria Peak of Hong Kong, which is a special museum exhibiting celebrities' waxes. It is the first and one of the only two permanent Madame Tussauds museums in Asia, the other being the Shanghai branch, which opened in 2006. The headquarter of Madame Tussauds Museum is in London and the Hong Kong branch opened in 2000, featureing about 100 international, Chinese and Hong Kong celebrity wax figures, including China's President Hu Jintao, basketball star Yao Ming, soccer star David Beckham (David Beckham), Hong Kong Olympic gold medalist Lee Lai-shan, famous artist Kelly, Jay Chou, Andy Lau, Cecilia Cheung, and the late superstar Teresa, Anita Mui, Leslie Cheung. Asian figures in Madame Tussauds Hong Kong take up more than a third of the total, of which sixteen were Hong Kongers. The wax figures are featured in a range of themed settings such as Hong Kong Glamour, Music Icons, Historical and National Heroes, The Champions and World Premiere.
Since its operation in 2000, Madame Tussauds Hong Kong attracts millions of tourists. On of the main reason why Madame Tussauds endures for some many years is that there is a strong curiosity in visitors' heart. Through contacting with historical celebrities, tourists will get an exciting exotic trip. Here visitors can really feel the various periods of celebrities. Here let people have a time reversal illusion, so that they can experience the era in which these celebrities lived.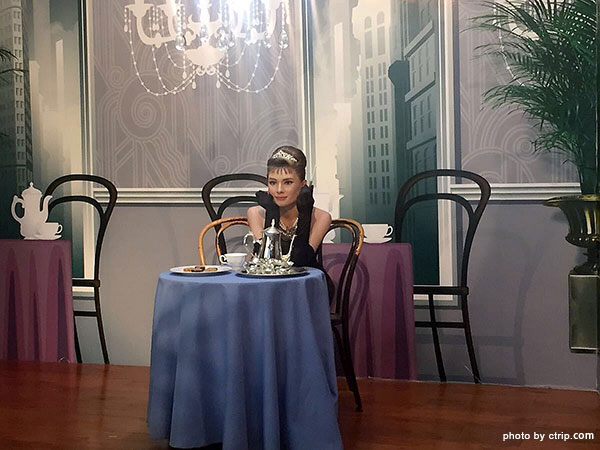 History
Back in the 1990s, Madame Tussauds got branches expanding globally within main cities including london, Amsterdam and Las Vegas, however not one was at the Asia-Pacific area. Once the "Madame Tussaud's Visiting Attraction" went within Singapore and Sydney in Asia, it was proved to become extremely well-known, so the Madame Tussauds Team chose to open up the long term store within Asian countries to be able to focus on this kind of need, and Hong Kong was selected because of its closeness towards the Asian marketplaces.
When the pavilion was originally opened in 2000, it was divided into seven different themes, including Movie Pavilion, Sports Stars, Wax Workshop, Celebrities, Historical and National Heroes, House of Terror and Music Icons. In March 2005 Madame Tussauds Hong Kong was closed to renovate and expanse and reopened in 2006.
Since 2008, the actual art gallery is actually managed by Bret Pidgeon, which is the common office manager of Madame Tussauds Hong Kong and Shanghai in china. The man has worked for 8 years for Madame Tussauds in New York formerly. The art gallery is available for visitors coming from downtown via minibus, taxi or even Peak Tram.

The Adjacent Attractions
【Victoria Peak】
Victoria Peak (Taiping Mount)is the highest point in Hong Kong with a height of 554 meters above sea level. It is located in northwest of the Hong Kong island and has always been a landmark of the place. It has the most prestigious luxury class residential area, as well as one of most famous tourist attraction in Hong Kong. You can aboard this 380-meter high mountain by taking the Garden Road Peak Tram. The Peak Tram began operation since 1888, and it never had an accident for one hundred years. It only takes 8 minutes to reach the summit by the cable from the foot of the peak. Tram service is available from seven o'clock until midnight, with every ten minutes to send a shuttle.
【Victoria Harbor】
Victoria Harbor is located between the Hong Kong Island and the Kowloon Peninsula in in Hong Kong SAR. It is the largest seaport in Asia and the third largest in the world. Because of being a natural harbor with deep water and wide space, Hong Kong honors to be the "Pearl of the Orient", "one of the world's three natural harbors" and "one of the three most beautiful night scene in the world ". The name of Victoria Harbour's derived from the British Queen Victoria. It offers free access all year round.

Travel Tips
Madame Tussauds Hong Kong is accessible from Central via minibus, taxi or Peak Tram and opens all year round from 10 am to 10 pm daily. Admission fee is HK$140 (US$18) for adults and HK$70 for children aged between 3 to 11 years old.