Ngong Ping 360 is a cable car route located in the Lantau Island, Hong Kong. It is the third cable car system in Hong Kong. The other two are the Mount Parker crane (dismantled) and the Ocean Park cable car. Ngong Ping 360 connects Lantau Tung Chung with Ngong Ping. It is currently the largest cable car system in the world. The total length of Tung Chung Cable Car is 5.7 kilometers. The trip takes 20 minutes, saving more than 40 minutes than taking the New Lantau Bus No. 23 from Tung Chung to Ngong Ping via Tung Chung Road. 360 in the name refers to that passengers can get a 360-degree view Lantau Island scenery in the Cable Car. Ngong Ping 360 is destined to be one of Hong Kong's must see tourist attractions on Lantau Island. Preserving the natural ecological environment and features of the Ngong Ping area and converging the custom and culture of the Lantau Island, Ngong Ping 360 will make you love this place and have a leisure time.
Unlike other ordinary cable cars, the design of Ngong Ping 360 is divided into three sections, you need to turn twice. You should start take the cable car located in Tung Chung Cable Car Station, first across Tung Chung Bay to reach Chek Lap Kok station, then turn 60 degrees to Mount Maitreya in North Lantau Country Park, and then turn on the mountainside of Maitreya station and finally arrived at Ngong Ping cable car station.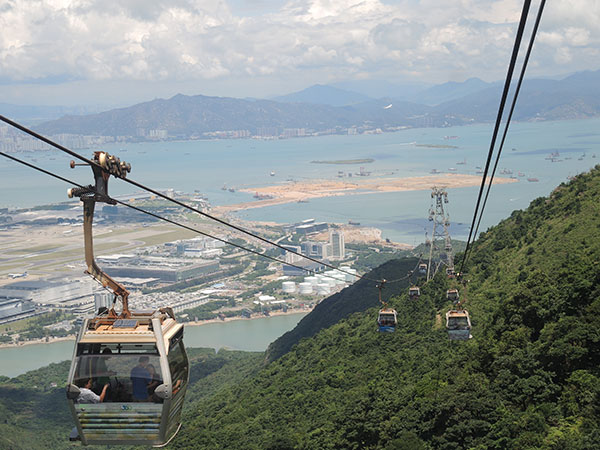 Unlike Ocean Park cable car system, Ngong Ping 360 cable was designed with dual overhead lane, the cable car system has eight towers, of which 5 in Country Park. Distance between towers is a little far, so high-loaded cable car should be used. The cable car can accommodate up to 17 people, including 10 seats, as well as dedicated space for wheelchair users. The whole system owns about 70 cars. It can carry about 3,500 passengers traveling between Tung Chung and Ngong Ping per hour in single direction.
Tung Chung Cable Car ride just takes about twenty to twenty-five minutes. Visitors will enjoy panoramic views of the Hong Kong International Airport, South China Sea, the Tian Tan Buddha Statue, as well as the flora and fauna of North Lantau Country Park.
Ngong Ping Village
Ngong Ping Village refers to a small market near to the Ngong Ping Cable Car Terminal, covering a total area of 1.5 hectares. Traditional Chinese architectural designs are a feature of the Ngong Ping Village, which contains an assortment of shopping and dining experience . It has several attractions around, such as Walking with Buddha, the Monkey's Tale Theatre and Ngong Ping Tea House.
Note: the opening hour at weekdays is from 10:010 to 18:00. And in weekends & public holidays, the opening hour is from 9:00 to 18:30.