Lion Grove Garden is a classic Chinese garden located at 23 Yuanlin Road in Pingjiang District, Suzhou, Jiangsu, China. Adjacent to the Humble Administrator Garden, Lion Grove Garden the only garden having survived from the end of the Yuan Dynasty to the present day. This garden was originally built in AD 1342, having a history of more than 650 years. It is one of the four greatest gardens and representative classic gardens in Suzhou City, the other three being the Humble Administrator's Garden, Surging Wave Pavilion and Lingering Garden. The idea of its name came from Leo in the Buddhist scriptures.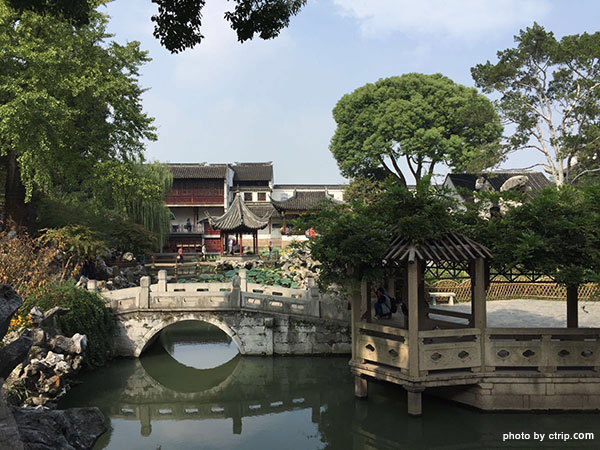 History of Lion Grove Garden
In AD 1341, a High monk named Tianru came to Suzhou to sermon and achieved wide admiration by his disciples. In the second year (1342), during the Yuan Dynasty (1279-1368), a Buddhist temple was by Monk Tianru and a group of Buddhists of the Zen Sect, in the memory of High Monk Zhongfeng. Lion Grove Garden has been changed hands and renamed several times. It was first given the name of Lion Grove, which refers to the Lion Peak of Mount Tianmu in Lin'an City, Hangzhou, Zhejiang, where Abbot Zhongfeng attained nirvana. Later, in 1342, its name was changed to Puti Temple, and then Sheng An Temple. Lion Grove Garden was a popular center for Buddhist, as well as literary activities at the time. Many scholars created their paintings or lines after being inspired by the garden. The well-known Yuan artist Zi Zan (Yunlin) painted a scroll of the Lion Grove Garden.
After Monk Tianru's death, his disciples were dismissed. Lion Grove Garden was abandoned and became dilapidated. In 1589 during Ming Dynasty, another Buddhist monk, Mingxing, rebuilt the garden and temple with donations he had collected. During the reign of Emperor Kangxi in the Qing Dynasty (1644-1911), the two parts were separated. Emperors Kangxi and Qianlong visited it several times and made replicas of the garden at the Yuan Ming Garden and the Imperial Mountain Resort respectively. Huang Xingzu, the governor of Hengzhou, bought the garden and renamed it She Garden. His son, Huang Xi gave it a new name, Five-Pine Garden in 1771, after a major renovation was carried out. The garden was again left in ruins due to the Huang family's bankruptcy, until it was purchased by the Bei Run Sheng (the great uncle of Ieoh Ming Pei, Ieoh Ming Pei is a world-famous master architect) in 1917. And then he spent about 70 years to repair the garden. When the repair was finished and the garden was about to reopen to the public, the anti-Japanese war broke out and the reopening was set aside. Bei Run Sheng passed away due to illness, and the garden was managed by his grandson, Bei Huan Zhang. After the founding of the People's Republic, the garden was donated to the government. From then on, it has been under good protection and it was reopening to the public in 1954.
In 2000 it was inscribed on the World Heritage List by UNESCO. In 2003 it was listed as the National Tourist Attraction of Grade AAAA.

Design of Lion Grove Garden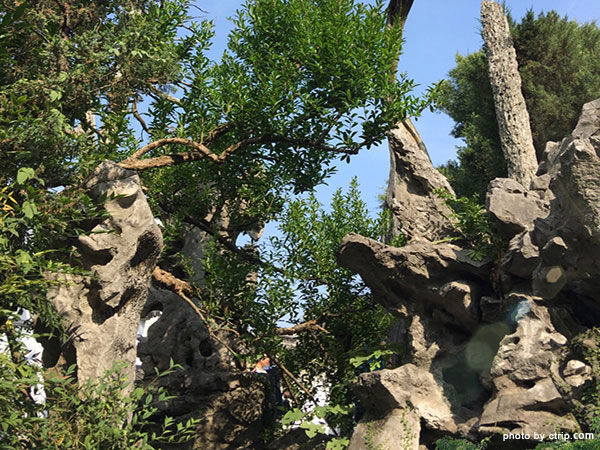 Compactly yet harmoniously spaced, The Lion Grove Garden, also called the "Kingdom of Rockeries", is noted for its labyrinthine man-made limestone mountains with winding pathways and caverns as well as pavilions, terraces and towers. A long roofed walkway going round the garden leads to places of quietude.
The man-made mountains of Lion Grove Garden are not very high but awe-inspiring, possessing numerous winding caverns. Large areas of water are not deep but immense, curving round the mountains. The waterfalls are concealed by trees and flowers. Rare species of old trees are impressive. The pavilions, halls and towers are celebrated for their exquisite workmanship. No wonder it is regarded as one of the four most famous gardens of Suzhou.
Garden is an ideal site for sightseeing as it has richly ornamental pavilions and towers in different styles, each having its own history and story. The most magnificent in Lion Grove Garden is Zhenquting (True Delight Pavilion). Built in royal architectural style, it has a horizontal board inscribed by Emperor Qianlong of the Qing Dynasty.
Lion Grove Garden consists of three parts: ancestral temple, housing complex and rockery around a central pond. Residential area is represented by YanYu Hall, which is also the main hall. The building is wonderful and magnificent. The ponds are not deep, but has multi-layered, curving edges and many waterfalls next to flower beds, and many old, famous trees of beautiful appearance.

How to get to Lion Grove Garden
It is sited in downtown of the city and easily reached by taxi. If you would like to go there by public transport, you can take 518, 112, 55, 262, 202, 811, 529, etc.