Not far away from the Grand Buddha statue, the gorgeous
Lingshan
Buddhist Palace (Chinese name: 灵山大佛) is located right on the foot of Lingshan Mountain, Wuxi, Jiangsu Province, China. The palace covers a total construction area of 70,000 square meters. This magnificent structure has 3 layers, decorated with 5 tower-shaped topping. A stramonium-shaped chancel lays on the back part of the building.
As an exhibition center of China modern Buddhist Culture and Art, Buddhist Palace was open to public since 2008. To demonstrate the profoundness of the Buddhist culture and its ever-lasting charm, stone and other solid materials were the mainly building material; large stelae, long-span beam-column and high vault were widely utilized. At the same time, traditional Chinese handcrafts like stone carving and painting were successfully merged into and showed in details.
The exterior look of Lingshan Buddhist Palace is decorated in Tibetan style with the integrating elements of grottoes caves and traditional Buddhist architectural. You can find exquisite reliefs on the large chunks of stone in outer walls. The five golden spires are very majestic. Walking into the palace, Dongyang woodcarving, Dunhuang murals, Yangzhou lacquer wares, cloisonne Sumeru lamps, Shoushan stone carvings, Jingdezhen blue and white color bucket cylinder and other traditional art treasures make you dizzying. The grand hall is magnificent and spacious, you will see twelve golden statues of humanoid zodiac. each one has different shape. Coming to the atrium and looking up, you will be amazed by the tall and extraordinary crafted dome. Decorated in blue makes the top look like sky; and there are different fairy statues on the beams.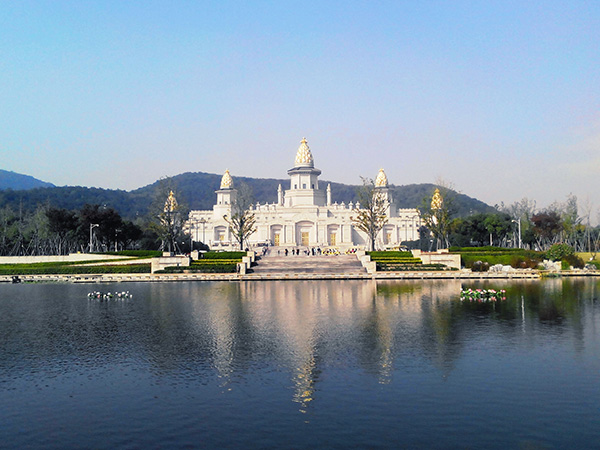 Pass by the atrium and walk to the end, you can see an extraordinary shining wall; this is the greatest treasures of Lingshan Buddhist Palace – "World of Avatamsaka". The wall has about 100 square meters, made of 160 coloured glaze. It is decorated with reliefs and there are five Golden Buddha inlaid in the middle of the wall. One is in large size and the other in small size. On the top is a wooden plaque that reads "妙应无穷" in Chinese. The entire art work is quite amazing.
When you get into the altar part, you will be amazed by its colorful domes with changing lightings. Here puts on a melodrama – Ode of auspiciousness every day. The melodrama tells the story that Sakyamuni(the founder of Buddhism) gave up his elite status as a crown prince, abandon luxury life, put himself on the path to being a monk, and became a Buddha after going through Numerous suffering. You can sit on the hassock to watch the performance with entrance tickets.
In addition, there is a Treasure Museum on the 2nd floor (required separate ticket, RMB30). There exhibits a lot of arts and crafts by contemporary masters, including jades, porcelains, paintings, etc..
Tips
• Before enter the building, visitors will have to wear shoes over first. There are staffs giving out shoes over to visitors at the entrance.


• There are interpretation device for renting at the entrance of the palace. If you want to know more about the Lingshan Buddhist Palace, you may rent one.


• Wuguan Hall on the third floor of Lingshan Buddhist Palace is dining place offering vegetarian buffet. The dinning time is 10: 30am-2: 30pm.


• The melodrama-Ode of auspiciousness is quite worth a watch. The show is put on show for four time every day: 10:35, 11: 30, 14: 00 and 16: 00. You should not miss it.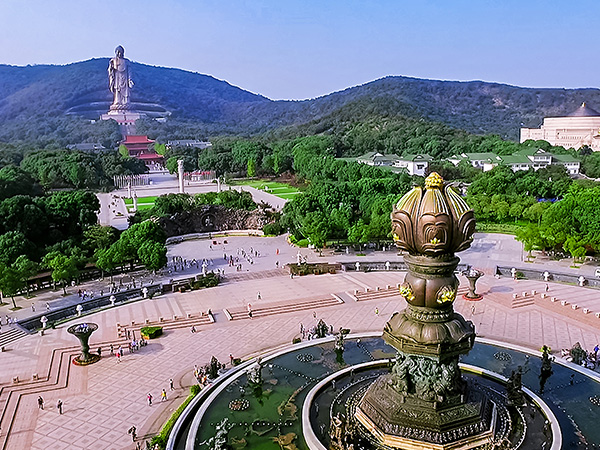 How to Get There
You may take Bus Route 88 near Wuxi Railway Station(Chinese:无锡火车站) and then get off at Bibo Mountain Villa Station(Chinese:碧波山庄), it takes about 2.5 hours, then walk for 300 meters to reach Lingshan Scenic Area. Or you may take Bus Route 89 near Wuxi Central Bus Station(Chinese: 无锡中央车站) and then get off at Bibo Mountain Villa Station(Chinese:碧波山庄), it takes about 2.5 hours, then walk for 300 meters to reach Lingshan Scenic Area.