The unique-shaped Waterwheel in Lanzhou popular Waterwheel Park is another highlight of this city. Built in 1994, the park covers an area of 1.45 hectares (3.58 acres) and is comprised of two waterwheels, a cofferdam, the recreation area and a house of water mill.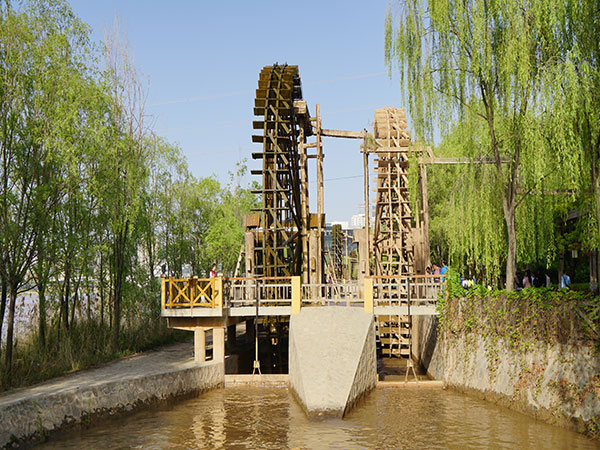 The waterwheel is an architecture based on the Ming-Dynasty style. The diameter of it is 16.5 m, the end section with scraper sites, scraper installed equidistant between the rectangular Xiegua Pelton. Stand south of Yellow River water tankers, Wong water using the natural flow booster quarter turn; dry season Zeyi cofferdam water diversion together, through the weir small drainage, water gravity boost. When the water leaves the natural impulse wheel board, to promote the waterwheel turns, Pelton will scoop over the river, so go to the headspace and then dumped into the Mu Cao, steady stream, into the garden to facilitate irrigation. Waterwheel Park reproduce this ancient irrigation machinery, foreign visitors can glimpse faster.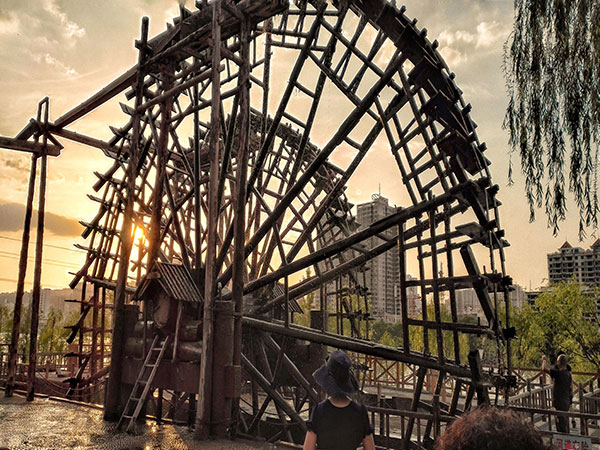 Located in the west part of Binhe Road, Iron Bridge of Yellow River is in its east, Mother of Yellow River Statue in its west, facing White Pagoda Mountain Park in the north and close to White Cloud Temple in the south, Lanzhou Waterwheel Park is an important scenery in the line of Binhe road. With 12 wheels of the Yellow River waterwheel in Lanzhou as main scenery, assemble the Chinese and foreign different forms, different styles of tens of waterwheels, Lanzhou Waterwheel Expo Park is currently the waterwheel theme parks which has the most varieties, the largest number of waterwheel in the world. Among them, the Yellow River Waterwheel in Lanzhou due to its unique structure, exquisite craft, bold style becoming the representative of the waterwheel and state-level intangible cultural heritage items.


Basic Information
【Chinese name】: 兰州水车博览园


【Recommended travel time】: 1 to 2 hours
【Transport】: By bus: Taking No.15 and 20 can reach there By taxi: Waterwheel park is 3.4 km from Lanzhou train station, 8 minutes driving.