As the most famous ethnic villages among others, Langde Miao village(Chinese name: 郎德上寨), which is said to have two parts: Langde Shang Village and Langde Xia Village(upper and low in English), is known as the Miao's Ethnic Village Museum with different Miao's style houses. It is recommended for its silver ornaments, embroidered costumes and local lusheng music and dance performance. The villagers in Langde wear long skirts, hence they are 'Long-skirt Miao'.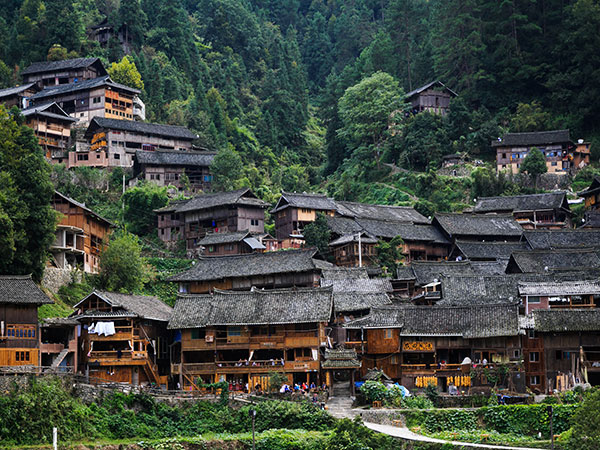 The Langde Shang Village is located at the foot of a mountain. There are five 'flower roads' leading to the village. Four wood gatehouses, called the 'gate of village', are placed at the eastern, western and northern entrances of the village. Propped up by wooden supports with ladders leading up, row upon row of wood houses makes a picturesque scene.
Langde Miao Village is a Miao village, 29 kilometers from Kaili city, 7 km from Leishan county government and is one of the key villages of the Guizhou eastern nation tour. This is a Miao village of hundreds of families. Langde town has the unique resources of ethnic tourism; the town has a reputation both at home and abroad of the "Chinese folk song and dance art township", "one of national hundred open-air museums" and "homeland of reed-pipe". Langde Miao Village ancient architectural complexes are listed as one of China's fifth batch of key cultural relics protection units.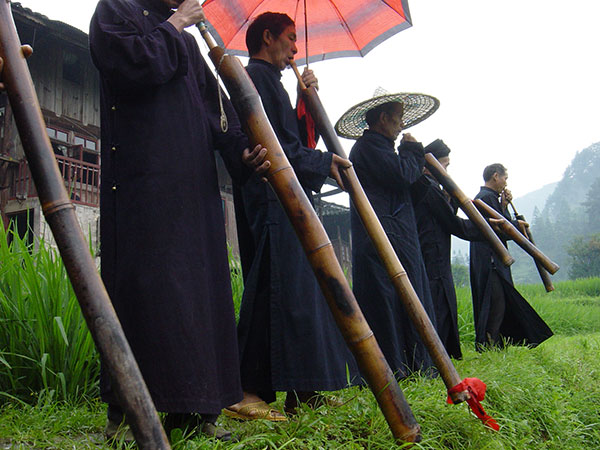 The village fronting water and with hills on the back, when tourists visit they will be warmly received in special reception way, they are in ceremonial dress, singing a toast to the guest and offer respectfully with liquor laid in the road. The villagers will bar the way to welcome guests entering into the village. After entering into the village gate, first of all, people there will dance in the bronze drum ground which is slow, and then is dancing "youth lusheng dance" which is in fast rhythm and lively. After the activity, visitors can freely roaming in the village, the guest no matter who passed through the door, they will be invited to the home enthusiastically.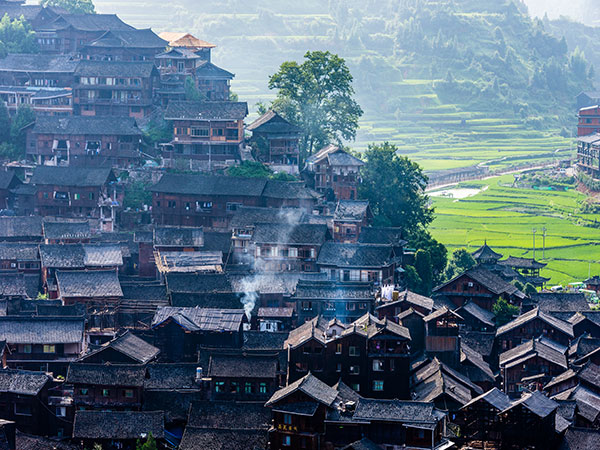 Transport
1. Taking bus in Kaili Ximahe Bus Station directly go to Langde, 9 Yuan per people, and departs in every hour, the whole driving will take 40 minutes. Along the way to Langde, you can view Nanhua Miao Village and Jidao Miao Village. If there is no bus to Langde some day, people can take bus from Kaili to Leishan, 12 Yuan a people, every half an hour dispatch a bus for driving 40 minutes. Taking this bus tourists need to stop at the road junction of Langde, and then walk 10 to 20 minutes into village. Charter bus from Kaili to Langde costs 100 Yuan.
2. Taking direct bus from Leishan County to Langde, 5 Yuan a people, departs at every half an hour.