Kuan Zhai Alley is one of the top three historic preserve districts in
Chengdu City. It is formed by three alleys called Kuan Alley (Wide Alley), Zhai Alley (Narrow Alley), and Jing Alley. The major buildings in this site are courtyards and ancient style streets. This district had been renovated from 2005 to 2008. And now, it is a cultural site consisting of 45 Qing Ming Dynasty style courtyards, modern villas and gardens, as well as theme hostels.
History
In the fifty-seventh year of Kangxi in Qing Dynasty (1718), the government has sent about 3,000 soldiers to Tibet. After the war was stopped, over one thousand Baqi Garrison and their families have stayed in Chengdu forever. Kuan, Zhai and Jing Alleys were included in the 42 alleys for soldiers. However, the process of urbanization gradually swallows up the historical relics of old Chengdu, and nowadays only three out of 42 alleys, that is, Kuan, Zhai and Jing Alleys have been remained with reserve of the past signs.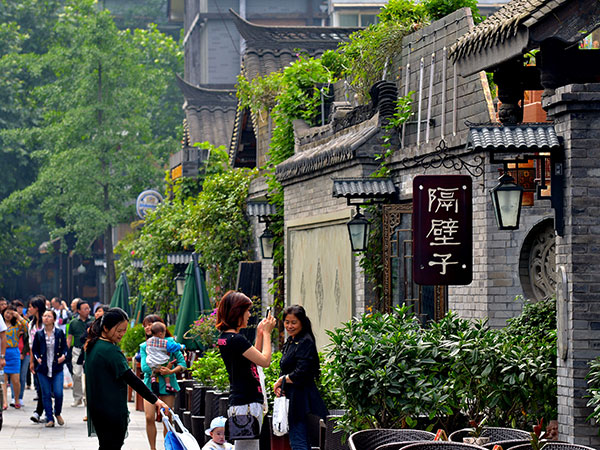 Kuan Alley –area with Chengdu's ancient culture
Kuan Alley is the representative of the very local culture in Chengdu. Local presidents, phoenix trees, inns and the old tea houses, all of these make Kuan Alley become a unique site. Kuan Alley is a symbol for modern people to memory the past Chengdu.
Zhai Alley – area with Chengdu's leisure lifestyle
The feature of the Zhai Alley in Chengdu is the leisure lifestyle. After the renovation in 2008, Zhai Alley has became a district to present the gardening culture of Chengdu. The gardening culture here shows a traditional and graceful culture of Chengdu, that is a family has a garden, a garden surrounds a house, a house contains a courtyard, a courtyard plans trees, trees are under the sky, the sky has the moon… In Zhai Alley, western restaurants, take-away inn, café, art and leisure workshop are the major factors.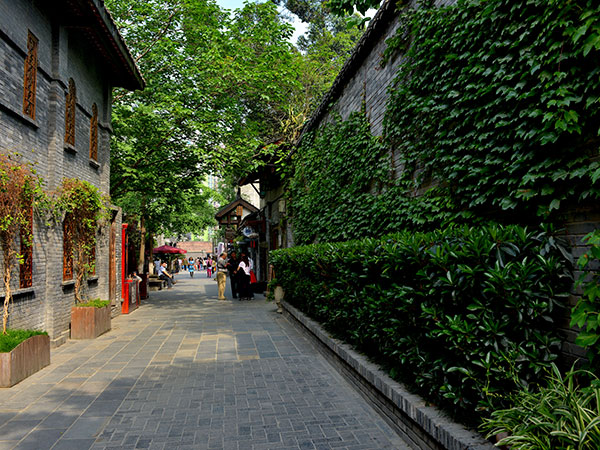 Jing Alley – area with Chengdu's modern life
The goal to renovate Jing Alley is to build up a modern area for Chengdu people. Jing Alley is a multi-culture area. People can enjoy the delicious food in the most beautiful historic street in Chengdu; enjoy the interesting night life in the traditional Chengdu architecture; enjoy the creative happiness in the most classic alley. In Jing Alley, people can enter into bars, clubs, desert shops, etc…
Tips
Address: in the east side of Tongren Road and the west side of Changshun Road, Qingyang District in Chengdu
Surroundings: Tianfu Square, People' Park, Qintai Road, Baihuatan Park