Jiuxiang Scenic Area is located in Jiuxiang Yi and Hui Township in Yiliang County, 90 km away from
Kunming, and 47 km from Yiliang Coutny. The scenic area featuring by Karst cave landscape is a large comprehensive tourist scenicarea combining the karst cave, gorges scenery, ethnic customs and cultural landscape. With hundreds of large and small caves, Jiuxiang scenic area owns the largest scale, number and most unique caves. It is a unique international karst geological park. According inspecting demonstration of cave scientists, Jiuxiang karst caves are located in dolomite which formed 600 million years ago.



Located at the mountainous area, the climate in Jiuxiang is mild and cool. The altitude here is about 1750m to 1900m. There are six small scenic areas, among which only the Three Feet Cave, Dashaba Dam, Horseshoe Bay, Alulong Scenic area and Horseshoe River Scenic area opened to public.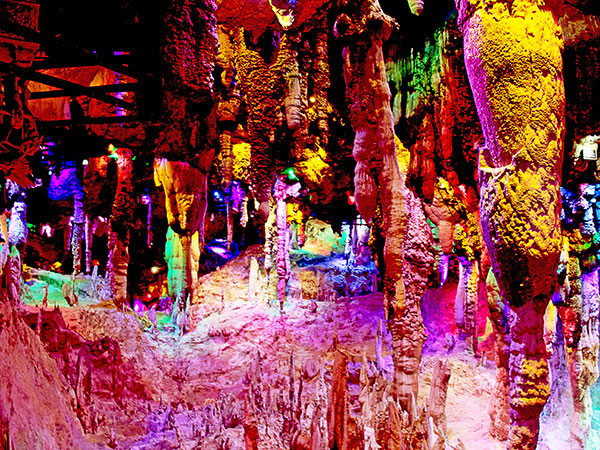 Main Scenic Spots
Jinhun Gorge (Scared Gorge): the largest gorge in cave in China. The largest vertical height can be hundreds of meters. It was forming by the continuous incising of river bed. Yinchui Gorge: As there vegetation here is flourishing, hence the name. It is also named Lover's Valley, as it used to by the spot where boys and girls of Yi group singing love songs. The Bat Cave: As there are thousands of bats living here, hence the name. As tourists come here, the bats here move to other places. The main scenic here are stalactites which look like hanging forest. Wolong Cave: There are 30 m high two waterfall in the cave. In dry season the flow is just 2 to 3 steres, but in flood season, the two waterfalls will fall as one like a giant yellow dragon. The Lion Hall: It is an underground hall with oval and tilted dome. As the stalactites looks like a male lion, hence the name. The hall is high and large. It is about 20 -30m high, and over 200 long and wide. The total area is about 150,000 square meters.
Zhangkoudong hominid site is located in the scenic area. The State Administration of Cultural Heritage formal approved to rescue excavations the sites which could be traced back to 10,000 -50,000 years ago, even to Palaeolithic age. As one of the birthplace of ancient human in Yunnan, it represents the unique Paleolithic culture in South China, and is considered as "Unique in Jiuxiang". In addtion, there are over 80 Yi ancestor inscriptions which are carved during Qing and Hang Dynasty.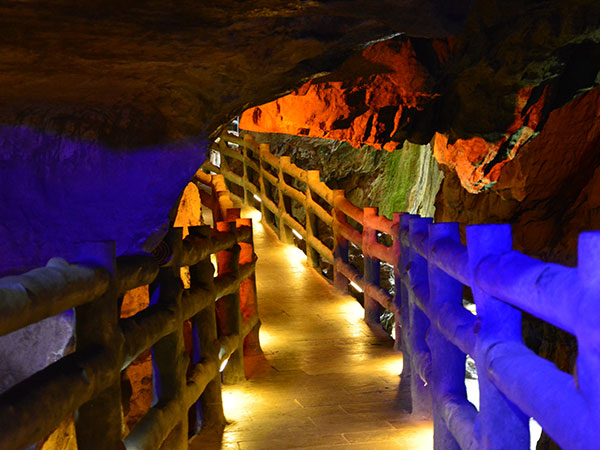 How to Get There

1. By Bus: take mini bus in Kunming North Bus Station, Juhua Village Bus Station or Kunming East Bus Station to Yiliang County (about 20 CNY), and then take mini bus to Jiuxiang (about 10 CNY).
2. Self-driving Route one: Kunshi Highway – Yiliang Toll Station – Yijiu Road – Jiuxiang Scenic Area, the whole journey is about 80km for 70 m driving Route two: Kunshi Highway – Shilin (Stone Forest) Toll Station – Jiushi A Tourism Special Line – Yijiu Road – Jiuxiang Scenic Area, the whole journey is 112 km for 100 m driving.
3. Cableway Jiuxiang Cableway is about 1000m long passing green mountains. Tourists could appreciate the scenery of difference seasons and visit the Zhangkoudong hominid site.