Since it first opened in 1984, Jinjiang Amusement Park became extremely popular as it had the first roller coaster in Shanghai. Sited at 201 Hongmei Road, Minhang District, Shanghai, this park is one of the most complete modern amusement parks in the city. Entertainment equipment in the park includes Roller coaster, great fairy wheel, the Merry-Go-Round, etc. The aqua world opens in the summer. It is suitable to visit for all ages' people, especially for Children to have fun.
Facilities in Jinjiang Amusement Park
Jinjiang has brought in a new motorcycle roller coaster, which attracted thousands of visitors. It is currently the most popular ride in the park and often the only one that visitors have to queue for.
The Old Story in the Old Station is other highlight in the park. The project is also a salute to the 100th anniversary of Shanghai Railway Station. It features China's first railway, Shanghai's first train station, the first China-made locomotive and a train compartment of the early 1950s.
The Motorbike Coaster brought in from Italy is also attractive to visitors. It is the only motorbike coaster in Asia, which can sprint to 65 kilometers an hour from a standing start within two seconds. The track is 364 meters long and passengers can feel as if their knees are touching the ground in the curves.
The Ferris wheel is another highlight in the park. It is a giant 108-metre (354 feet) tall Ferris Wheel, being the tallest in the city. The wheel has a diameter of 98 meters (322 feet), and takes about 20-25 minutes to complete one rotation. There are 63 passenger cars on the wheel and each car can carry 6 passengers who, on a clear day, can see the giant Oriental Pearl TV Tower in Pudong Area, the Xupu, Fengpu and Songpu bridges on the Huangpu River in the south, and Sheshan Hill in the west.
Also, there are interesting facilities like the traditional pirate ship, a haunted house and bumper cars, so on. However, due to its small size, most facilities are smaller than usual.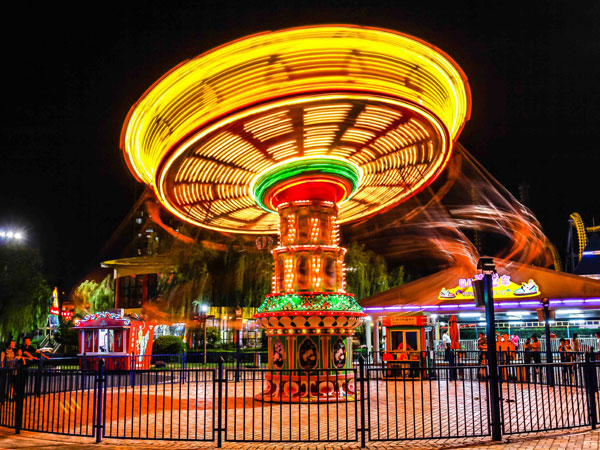 How to Get to Jinjiang Amusement Park
You can take Metro Line NO.1, then get off at Jinjiang Fairyland Station. Or you can take 50, 166, 218, 703, 764, 803, 704, 712, 735, 131, 122, 755, 725, 152, 747, 816 to get there.
Best time to visit: it is highly recommended to travel in Summer, for the opening hours in summer is longer and there are a variety of water recreation activities in the park, so that you can have some more fun in Jinjiang Amusement Park.