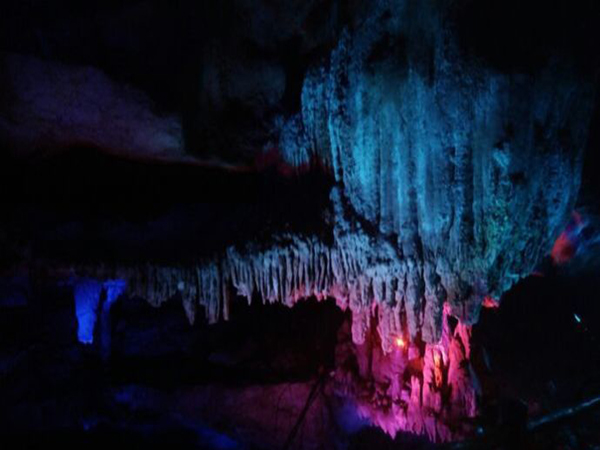 Jingdezhen Hongyan Fairyland is located 50 km away from Jingdezhen-the Capital of Porcelain in China, 80 Wuyuan Village-the most beautiful and picturesque ancient town village in the country. Hongyan Fairyland Scenic Spot is a famous touring site in Jiangxi Province, which embodies both natural scenery and cultural relics. In this spot, you can visit Karst Cave, Stone Forest, Ancestral Hall and Ruins of Ancient School, etc. in one time.
The whole scenic area can be divided into two parts: underground cave area and stone forest area. There is a large underground Karst Cave here, which formed tens of millions of years ago, around the Mesozoic era. The whole cave covers an area of over 100,000 square meters, stretches over 2000 meters long. Maybe it is not as famous as the Seven-star Cave or Reed Flute Cave in Guilin, but it is quite worth visiting. There are too many things for the eyes to take in. There are underground waterfalls inside the cave. Stalactites, stalactite and lime-flower in grotesque shapes can be found everywhere in the cave. Most of them are personified as monk, sphinx and young lady or even mythical figures. Besides, there are also stone waterfall, mini "Great Wall" and frozen water curtain waiting for their guests.
Hongyan Bus Station is located near the scenic spot, whereby it takes about 10 minutes' walk to the inlet. The entrance of the cave just takes a few more minutes' walk. As for the cave tour, you just tours along trails and signs inside, you will not get loss. The sound of waterfall is clearly audible at the entrance of the cave. Inside the cave has lower temperatures and thick water vapor. There is some slippery steps next to the waterfalls, need to pay particular attention to safety while walking.
After getting out of the cave, you can climb up the Guangming Peak and have an unobstructed view of the azure immensity of the endless forests that stretched as far as they could see on all sides. And the mountain peaks fading in and out and the divine charms of rural landscapes fell under your eyes.
Then you will walk down the road to visit the Stone Forest. The dense forest with exotic trees and flowers is the haunt of rare and precious birds and other animals. Those old tree and famous wood species spread throughout the thousand acres of the picturesque stone forest. Wild blossoming flowers widespread everywhere; the birds sing merrily among the forests. What a cozy Place!


Travel Guide
【Chinese name】: 洪岩仙境


【Best time to visit】: It is suitable for visiting all year around, best in September and October.


【How to get to Jingdezhen Hongyan Fairyland in Jingdezhen】: You need to take bus at Jingdezhen Bus Station to get to Leping(乐平) first, then transfer to Hongyan(洪岩). It is not far from Hongyan Bus Station.