In order to commemorate the centennial anniversary of the 1911 Revolution, the activity of creating a hundred-meter-long painting and calligraphy by one hundred masters from the mainland, Hong Kong, Macao and Taiwan was held in Ten-li Gallery, a famous scenic spot of Zhangjiajie, on October 8. The theme of the activity is "realizing great rejuvenation of the Chinese nation and promoting peaceful reunification of the mainland and Taiwan".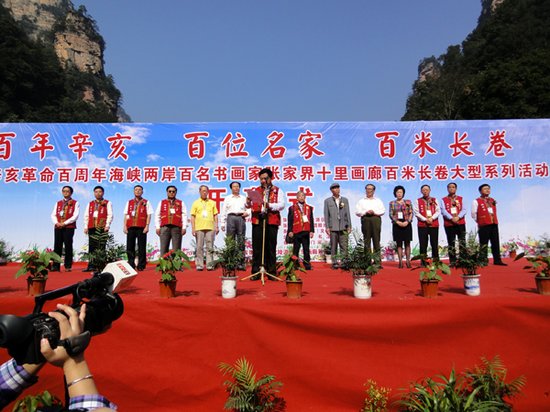 These outstanding painters and calligraphers painted or wrote on a hundred-meter-long white paper in high sprites and showed the masterpiece to the audience after finishing it. As long as the large painting was completed, 300 pigeons were released to fly, a local band began to play the suona horn, a Chinese traditional musical instrument, and drum players began to beat their drums. The scene was really exciting.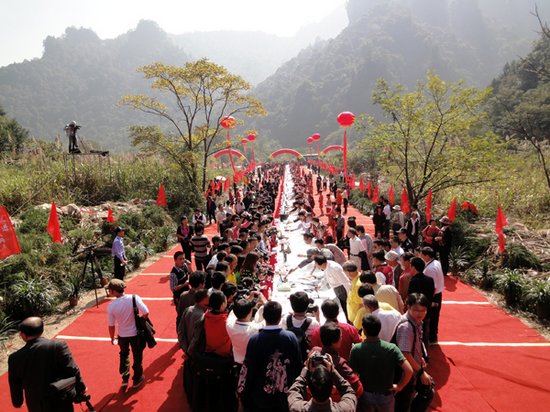 The activity includes three parts: one is creating the large painting in Ten-li Gallery; another one is creating works in Baofeng Lake; the last one is creating paintings or calligraphies during these masters' tour in Yuanjiajie, Huangshizhai, and Tianzi Mountain (Emperor Mountain). All works will be exhibited in Baofeng Lake for tourists to appreciate.