The "Hunan Traditions—Special Exhibition of Folk Arts, Folk Customs with Hunan Characteristics" was held in Taibei, China on November 26. Liu Dai'e, the descendant of brocade technique of Tujia Minority, introduced and showed this traditional art to Taiwan compatriots.
With the opening of the event, the serial activities of the second "Keeping Watching Spiritual Home—Month of Intangible Cultural Heritage Across the Taiwan Strait", co-organized by the Chinese Cultural Association, the Hunan Provincial People's Government and the Shen Chunchi Cultural and Educational Foundation of Taiwan, was officially unveiled as well.
The activities will be held in Taibei, Xinzhu, etc. and last until February 12, 2012.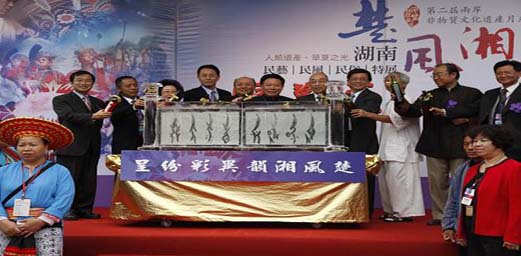 Source: Hunan Official Web Portal