The cornerstone-laying ceremony of Hunan Provincial Museum of History of the Communist Party of China (CPC) was held in Wangcheng County, Changsha City on the afternoon of June 24. The museum together with Lei Feng Memorial Hall and Changsha National Defense Education Hall in the neighborhood will serve as Hunan's major bases for education of party history, revolutionary tradition and patriotism.
Secretary of the CPC Hunan Provincial Committee Zhou Qiang and other officials such as Huang Jianguo and Yang Taibo attended the ceremony. Ouyang Song, director of the CPC History Research Institute was invited to make a speech for this special occasion.
A total of 150 million yuan will be invested into this project. The new museum with a construction area of 15,000 square meters and an exhibition area of 6,000 square meters is scheduled to open in 2013 to mark the 120th anniversary of the birth of Chairman Mao Zedong. The museum aims to display the establishment and development of Hunan local organizations of Chinese Revolution (1949), brilliant achievements of revolutionary predecessors across the province as well as precious experience and success in economic development and reform.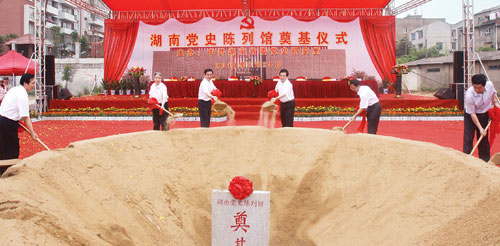 Translator: Guo Yan
Source: Hunan Official Web Portal