Shanghai Pudong International Airport (IATA: PVG, ICAO: ZSPD) is the primary international airport serving Shanghai and a major aviation hub for Asia. It is located about 30 kilometers east of the city centre.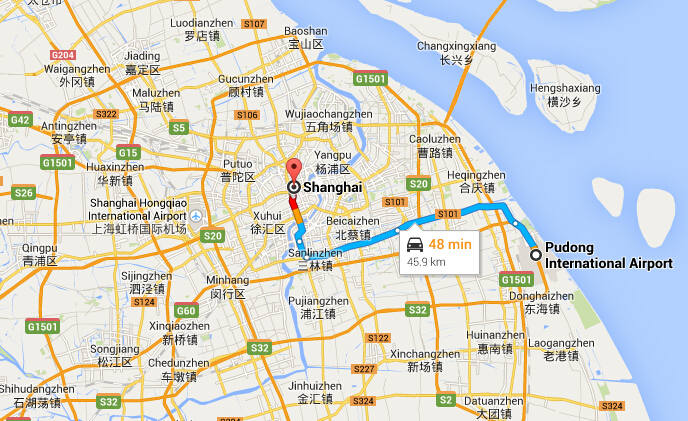 There are many options for you to choose to get to the city center from Shanghai Pudong Airport, for the transportation in Shanghai is quite convenient.
Option 1 By Airport Shuttle Bus
Firstly, you can take the airport express bus to get to the city center. There are airport express Line No.1 to Line No.8, and most to them can take you to the city center. So, before you decide to get on aboard, you should know where exactly you want to go and check the bus route with the staff in the airport. They would be glad to help you.
Option 2 By Metro Line 2
Metro Line 2 (in green) is available when departing or arriving Pudong International Airport. Below is a map of Shanghai metro system for your referance: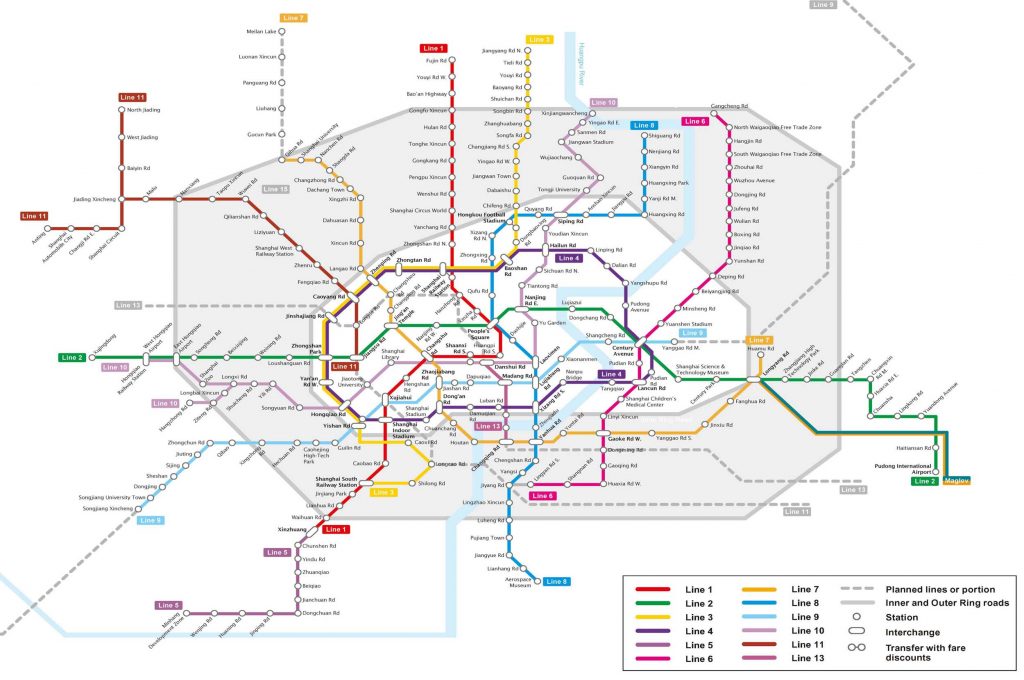 The Guanglan Road stop is a transfer stop, changing between four-car and eight-car subway trains. Passengers who need to transfer and continue their journey to the city center should get off here.
►Pudong International Airport-Guanglan Road (Round Trip)
Operating Time: 6:00 a.m. – 22:00 p.m.
Interval: 8.5 minutes
Option 3 By Maglev Train
If you want to have maglev train experience, this way may fits you well. But you should notice that the destination of the Maglev Train is Longyang Rd. Metro Station. If you want to head forward to the city center, you should transfer to Metro Line 2 and get off at People's Square.
Origin: Pudong Airport
Destination: Longyang Rd. Metro Station
Operating Hours
Pudong Airport-Longyang Road 7:02a.m. – 9:42p.m.
Longyang Road-Pudong Airport 6:45a.m. – 9:40p.m.
Interval/min: 15mins before 7:02p.m.; 20mins after 7:02p.m.
Fare/RMB: Single Trip: 50 for Economy,100 for VIP
Round Trip: 80 for Economy,160 for VIP
Option 4 By Taxi
By taxi may be the most convenient way. But the cost is a little expensive. Also, in Shanghai, it is a little hard to get a taxi. You may have to wait for 30 minutes or more to get a taxi, for there are too many passengers sometimes.
Option 5 By Car Rental Service
If there are more than 4 pax in your group or you travel with a lot of luggage, it is recommended to rent a car with a driver and English-speaking tour guide through travel agency. This kind of private transfer service is more considerate. You do not have to worry about the language and they will take directly to where you ask to.