Shanghai Hongqiao International Airport is the main domestic airport serving Shanghai, with limited international flights. It is located near the town of Hongqiao in Changning District, 13 kilometers west of Shanghai downtown, and is closer to the city center than Pudong Airport, which Shanghai's main international airport.
Shanghai Pudong International Airport is the primary international airport serving Shanghai. It is located about 30 kilometers east of the Shanghai downtown.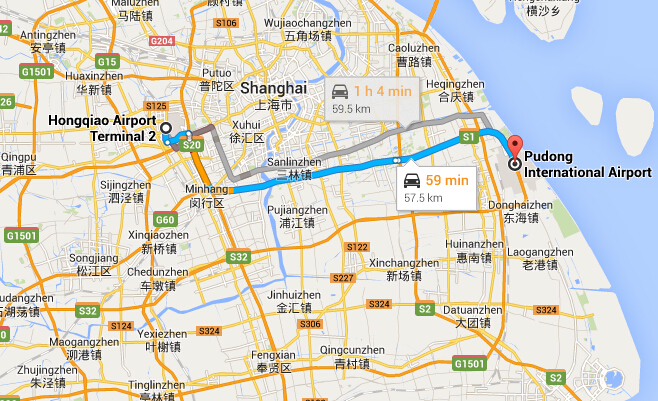 There are a couple of ways for passengers to get to Pudong Airport from Hongqiao Airport in Shanghai.
Option 1 By Airport Shuttle Bus
Upon your arrival in Hongqiao Airport, you should find the transportation hub center in the airport. It is near Terminal 2. Here you can take Airport Shuttle Bus Line No.1 to reach Pudong Airport directly with non stop. It takes the highway all the way and takes one hour and 20 minutes. The bus departs every 15 or 25 minutes from 6:00 a.m. to 23:00 p.m. The cost is RMB 30.
Option 2 By Subway
One can take Metro Line No.2 in Terminal 2 of Hongqiao Airport and get off at Guanglan Lu Station. Then walk to the opposite platform to get on Metro Line No.2, which serve the eastern extension section of Metro Line No.2. It will take you to Pudong Airport. The whole journey takes at least one hour and 35 minutes. The cost is RMB 8.
Metro Line No.2 from Guanglan Lu Station to Pudong Airport serves till 10:00 p.m.
This is the cheapest but the slowest way. If you want to save money and have enough time for the transfer, you can choose this way.
Below is an ultimately detailed map of Shanghai metro system which can help you map out the route from Hongqiao Airport to Pudong Airport in Shanghai.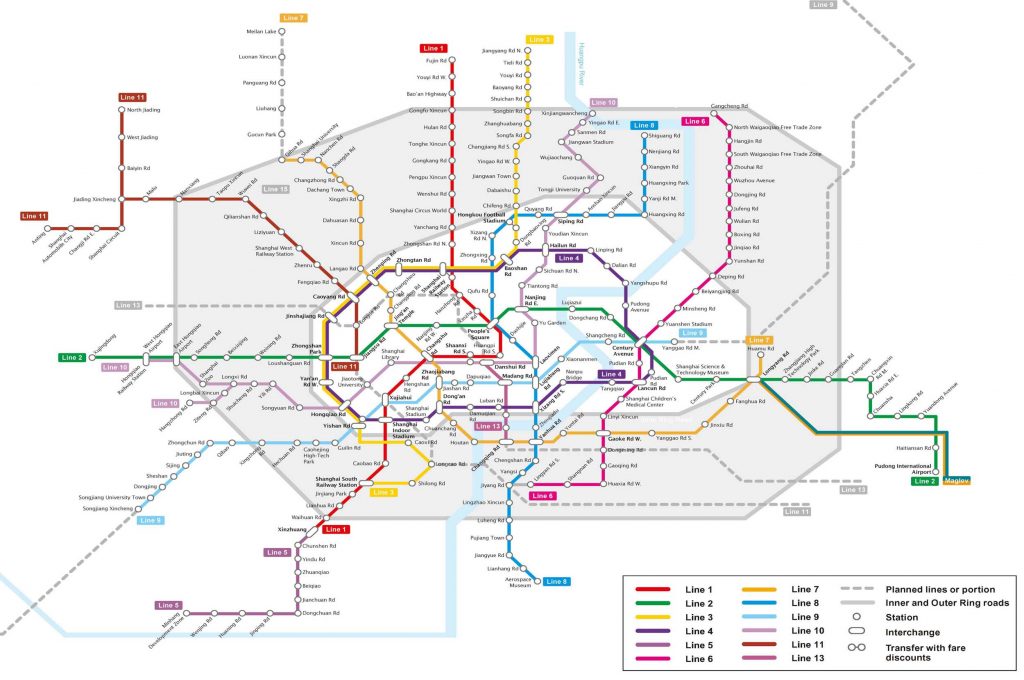 Option 3 By Subway & Maglev Train
If you want to have maglev train experience, this way may fits you well. One can take Metro Line No.2 in Hongqiao Airport and get off at Longyang Lu Station. Here you can transfer to maglev train to reach Pudong Airport. The maglev train only takes about 8 minutes from Longyang Lu Station to Pudong Airport. But the whole journey may take more than one hour from Hongqiao airport to Pudong Airport. The cost is 56 yuan in total.
To be noticed that the last maglev train departs at 9:40 p.m.
Option 4 By Taxi
By taxi may be the most expensive way, but it may be the fastest way if there is no traffic jam. It takes about 1 hour and the cost could be 200 yuan. It may take some more time, because you have to queue up for a taxi.
As for which option to take, it should depend on your budget, time permit and some other factors.