Hongya Cave is located in the riverside area of the Yangtze River and Jialing River two rivers converge and core business circle of C
hongqing Jiefangbei Cangbai Road. It has city tourism landscape, and urban cultural landscape. Ba-yu traditional architectural features of "stilted building" are the main body of Hongya Cave, and it was built according to the mountain, and built along the river. Hongya Cave has a history of more than 2300 years. "Hongya Cave Folk-Custom Scene Area" project is one of the "eight popular support projects" conducted by the Chongqing municipal government in 2005, a total area of 46000 square meters, is the "key landscape engineering in Chongqing" and "AAA key travel project". It is the best place to visit group of stilted buildings, appreciate Hongya Dicui, stroll mountain city old street, watch ba-yu culture, and taste delicious food, and it is also the Jiangbei lounge.
What to See
Whole Hongya Cave can be divided into Zhiyan River bar street (纸盐河酒吧街), Tiancheng Lane Bayu Custom Street (天成巷巴渝风情街), Shengyan Food Court (盛宴美食街) and Exotic Style Street Urban Balcony (异域风情城市阳台) four streets. Four streets provide a fashionable element respectively and there is chain bar like the U.S. global pirate bar and a series of world famous chain bar.
Tiancheng
Lane Bayu
Custom Street present a classic style that with 2300 years of Ba-yu prosperity as the carrier, shows the classical dwellings with blue bricks, stone tile, red green eaves tile, and the "folk craft work" would be appeared in here.
Shengyan Food Court expresses everyone another scene of "different food city".


Exotic
Style
Street
Urban
Balcony is one of the biggest urban traffic switching station in Chongqing city, Hongya Cave city balcony parking lot can accommodate 30 to 40 vehicles at the same time, people who visit or wander here or stay in Hongya Cave may take the escalator or the elevator to the Jiefangbei Stele or reach any of the floor of Hongya Cave.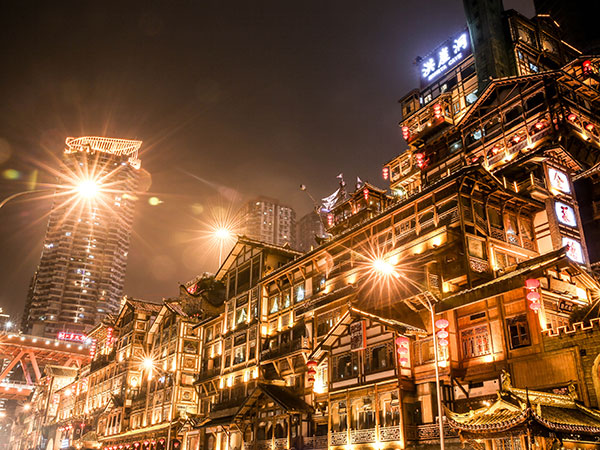 The Specific Features of Different Floors of Hongya Cave
11
th Floor: Hongya Cave Grand Hotel lobby is in 11
th floors, and there is viewing platform and bus station; from here pass through a small corner to Jiefangbei Stele; 10
th and 9
th Floor: this floor is a must visit place for foodie. And there is popular photography site "pirate ship" and the grand theater wall engraved with the film and television star photo; here people can drink coffee and view the river at the same time and watch stray singer singing at night, enjoy the local slow life;

4
th Floor: there is Ba-yu folk custom food street in this floor, where is a good place for eating; Local specialty overall price is a bit expensive in here, but the hot pot base can be cheapest as 10 RMB;

3
rd Floor: 3
rd floor is all sectors workshop old street, and there are waterfall, ancient road, bridge and other scenery, where is the first choice place to enjoy the cool;

2
nd Floor: 2
nd floor is Chongqing tourism commodity center, people can find some Chongqing specialties such as bamboo weaving, the traditional textiles, etc.;

1
st Floor: people can go directly to the Jialing River to go for a blow, or take a night cruise on the lake.



Travel Guide of Hongya Cave
【Recommended Visiting Time】 2 to 4 hours


【Best time to travel Hongya Cave】 it is suitable to travel all year around, and people can visit group of stilted buildings, appreciate Hongya Dicui, stroll mountain city old street, watch ba-yu culture, and taste delicious food in here.


【How to get to Hongya Cave】
By bus: taking bus No.111, 112, 114, 132, 151, 181, 261, 262, 424, 0491, 866, and 881 to Hongyadong Station
By subway: taking subway line No.2 to Linjiangmen Station and walking towards northeast for 500 meters.