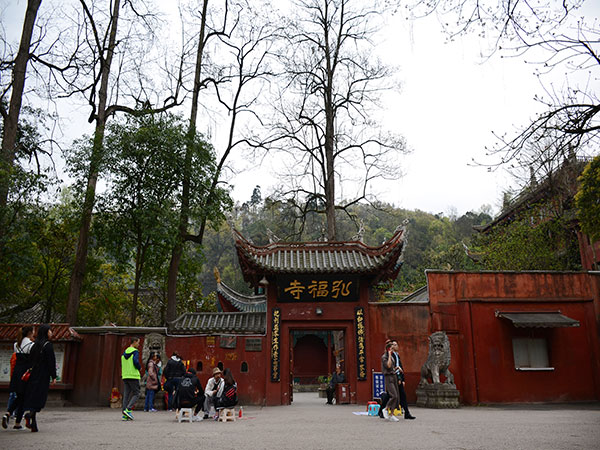 With 300 years of history, Guiyang Hongfu Temple is the most famous Buddhist temple in Guizhou Province. There are three halls with several jade Buddha statues in the temple. Besides these superb halls, the temple is also adorned with galleries, pools, and springs, which are of high artistic value. The temple has a lot of temple halls such as Daxiong baodian Hall, Kwan-yin Palace, Temple Hall for Worshipping Buddha and Sutra-Keeping Pavilion. Therefore, you can smell a strong fragrance of the joss sticks.
Hongfu Temple is in Qianling Park, which is situated in the northwest of Guiyang, Guizhou Province. The architectural style is magnificent and venerable. Over the past 300 years the temple has undergone several rebuilds, repairs and enlargements and is now a very well preserved example of its kind. As the largest Buddhist temple in Guizhou Province it has been declared a key cultural relic and has been open to the public since 1983.
Hongfu Temple is located in the center of Qianlingshan peaks of Guiyang city, about 1.5 km away from the city, is the top temple in Guizhou province with a name of "the First Mountain in south of Guizhou". Hongfu Temple was pioneered by Chisong monk, he is the earliest ancestor of Hongfu Temple, is one of the five schools of Chan Buddhism.
Hongfu Temple was founded in the eleventh year of Qing emperor Kangxi (1672). It is one of national key open temple, provincial cultural relic's protection units, and the province's largest Buddhist garden. Temple towering palace with rigorous layout, resplendent and magnificent ancient buildings covered by the trees and the shade, the whole temple is particularly magnificent and solemn seriousness. Hongfu Temple has short history of no more than 300 years, it may not be that important among many ancient temples. But in the field of religion in Guizhou, this temple has a very high position.
Hongfu Temple of 7 floor tower is made of polished granite delicate hexagonal. Tower is 5.35 meters high, the base and the width and height of the tower is gradually contract, giving people with comfortable feeling. The base in length of 1.29 meters in one side, the tower is 7 layer, the roof is very thick, but the feeling is very harmonious.
Basic Information
【Chinese name】: 弘福寺
【Recommended visiting time】: 1 or 2 hours