Tulou or earth building is a unique and mysterious Hakka architecture with a thick earth wall enclosure found only in the mountainous areas in southwestern Fujian province bordering Guangdong in Southern China.
Tulou is usually an enclosed buildings, mostly square or circular in configuration, with a very thick earth wall which is up to 6 feet thick and wooden skeletons, from three to five stories high, housing up to 80 families. These earth buildings have only one entrance, guarded by 4-5 inch thick wooden doors reinforced with an outer shell of iron plate. The top level of these earth building have gun holes for defensing against bandits. What is amazing about these earth buildings is the fact that in spite of the earth wall, some of them are more than 700 years old, surviving through centuries of natural elements, including earth quakes, yet still standing solid. There are more than 20,000 earth buildings to be found in southern China.
Nanjing County in Xiamen, got this name in 1365 under the jurisdiction of Zhangzhou City. It lies in the south of Fujian Province, west of Zhangzhou City, along the middle and upper reaches of the Jiulong River. At the end of Song Dynasty, Han people began to settle in the area and built Tulou. As Tulou are extremely common in Nanjing, nobody can tell the exact year when the first Tulou appeared. However, according to the existing record, the Liu Family built a square building called Jiguang Building in Xiaban Village in Shuyang Township.


The Tulou in Nanjing are highly concentrated in the town of Shuyang, Meilin, Chuangchang, Nankeng, Kuiyang and Hexi, which are linked together along the Jiulong River. These Tulou are precious presentation of the art of traditional Chinese architecture and earth-working civilization which originated from the ancient clan society, and can be found at the ancient sites like Banpo in Xi'an. Besides, Tulou in Nanjing is a material model on the traditional blood-relation oriented ideological culture of Chinese civilization.
Tian Luo Keng (Snail Pit) Tulou Group is one of the best known Hakka Tulou groups located in Shuyang Township, Nanjing. It consists of a square earth building at the center of a quincunx, surrounded by four round earth buildings, or more exactly, 3 round earth buildings and one oval shape earth building, figuratively nicknamed 'four dishes with a soup'.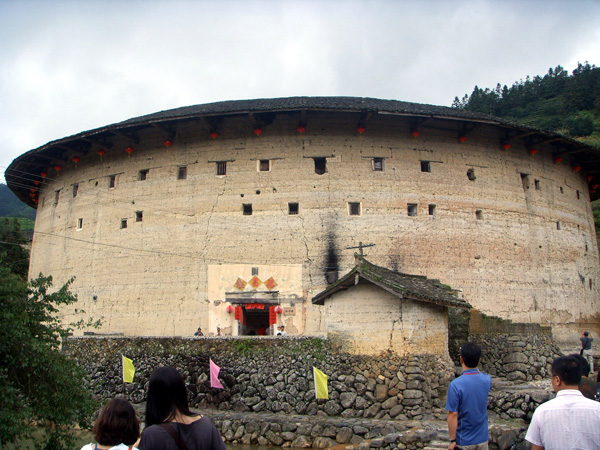 The five Tulous in Snail Pit Village are:
The square earth building named Buyun Building, or Reaching the Cloud Building at the center of the quincunx. It was the first earth building at this site, built in 1796. It is three-story high and each story has 26 rooms, four sets of stairs, and a circular corridor in front of the rooms. The Buyun Building was burnt down by bandits in 1936, and rebuilt in 1953 according to the original shape.
Hechang Building, a three-story high round earth building
Zhenchang building, three-story high, round shape, 26 rooms per story, and built in 1930.
Ruiyun Building, built in 1936.
Wenchang Building of 1966, 3 stories, and 32 rooms per story.