Gubei Water Town is located in the Miyun County in
Beijing, China. It is backed by one of the most beautiful and the most dangerous Great Wall section – Simatai, and is near to Yuanyang Lake reservoir. It is a rare ancient village with a combination of natural landscape of water, mountain in the suburb of Beijing. This village also boards Hebei Province. It enjoys convenient transportation. It takes about one and a half hour from Beijing Capital International Airport, about 45 minutes from the Miyun County or Chengde City by car. Gubei Water Town now is a popular resort near to Beijing. Attracted by its green waters and antique Northern China village architectures, many local people come and enjoy their weekends here, to enjoy the beautiful landscape and peaceful life around.
The water town contains rrunning waters across the town and rows of old residential houses during the Republic of China. You may take a boat there and appreciate stories of the old town. The old town exerts a history of over a thousand years and everything looks impressive. It will show visitors another kind of beauty in extremely cold winter, when it snows. Most tourists who went to Wuzhen Water Town before would feel like that this village has a similar look with Wuzhen.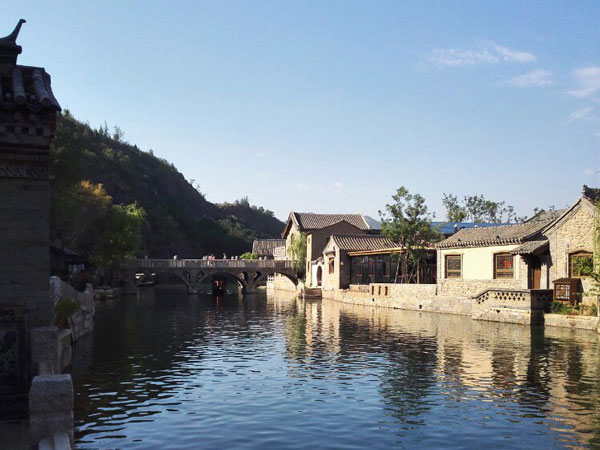 This resort is rebuilt on the basis of three natural villages, well preserving the original mountain courtyard buildings in during Republic of China's style. It covers a total area of 430,000 square meters, containing two five-star hotels, six small boutique hotel, more than 400 guest houses, restaurants and shops, more than 10 cultural experience areas, as well as many other improved supporting facilities.
There are many interesting things to do in and around the town. You may tour to the nearby Simatai Great Wall, which is one of most beautiful and popular Great Wall sections in China. Many beautiful views are awaiting your discovery while climbing the wall. The steps of the wall are dense and your legs might get sore from climbing, but when you get to see the wonderful scenery, you will feel that the trek is well worth it. If you are energetic, you may get up early to see the sunrise on the wall, to capture the first sunlight. The view of sunrise on the wall is quite attractive.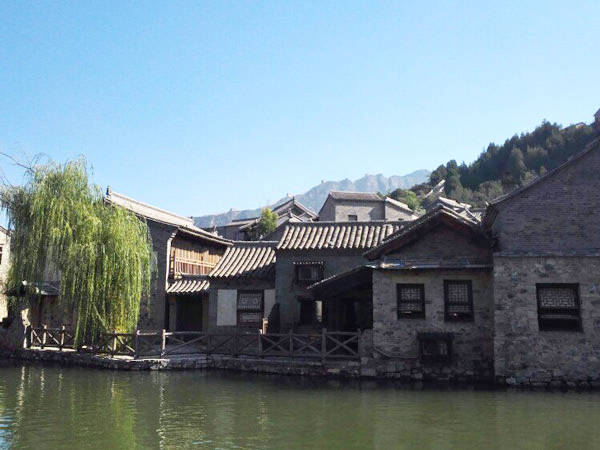 It is suggested to stay for one night in the village, to get unique experience feelings of local folk at the foot of the Great Wall. And the view of this water village is attractive too, with lights decorating the houses. Local authentic food and snacks are tasty, it is recommended to have a try. You can also visit to the nearby attractions like experience visit Yongshun Dye House, Zhenyuan Escort Agency, Sima Chinese Distillate Spirits Mall, Ba Qi( Eight Banners) Hall and other places.

How to Get to Gubei Water Town
You may take Bus No.980 at Dongzhimen Bus Station and get off at Miyun Xidaqiao Station, then transfer to Bus No.38 (密云-司马台) or Bus Route No.51 to Simatai and get off at Simatai Village Station, then walk to Gubei Water Town. It is recommended to spend one day to visit the place.