Beijing Aquarium is situ ated within the
Beijing Zoo complex, adjacent to the Beijing Exhibition Center, Beijing Planetarium and Beijing capital gymnasium. Although it is located in Beijing Zoo, the entrance ticket is sold separately from the zoo. It covers a total area of 120,000 square meters, of which building area is 4.2 square meters. It is the largest aquarium in Asia, as well as one of the largest one with the most advanced facilities in the world.
This world-class aquarium presents a huge array of strange and wonderful sea creatures. You will be able to see tens of thousands of marine animals in a variety of shapes, colors and sizes. It is a perfect place to watch marine animals, is also a good place to bring children to learn knowledge of the ocean. Except for marine animals, there are also a few performances played by dolphins, sea lions and other marine animals, which would be attractive to the kids.
The aquarium is mainly decorated in blue and orange, which represent the mysterious & vast ocean and the endless vitality of marine life. Its interior design is also distinctive and original.
Generally speaking, the aquarium is divided into 7 themed areas, showing different marine animals.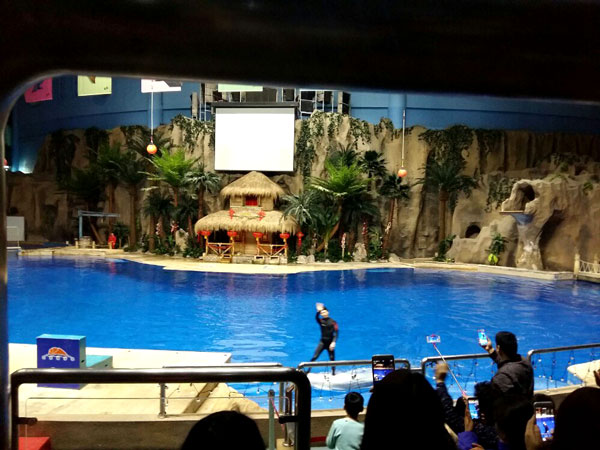 • Rainforest Wonders – this area is built in a simulated environment of the Amazon River basin's tropical rain forest. Main animals on exhibition here cover redtail catfishes, arapaima, Balantiocheilos melanopterus, gars, archerfish, angelfish, Piranha, Piranhas, etc..
• Styled Beach
– visitors can touch and feel different marine life here.
• Bailing Town – This area is quite small. The main highlight of it is two white whales. From the large panoramic windows, you can see the lovely white whales in water. If you are lucky enough, you may see the feeder feed the whales in water.
• Chinese Sturgeon Aquarium – You are able to get close look of Chinese Sturgeons through the world's longest acrylic overall exhibition window. Chinese Sturgeons is a kind of unique fish specie in China, being born in Yangtze and growing in the sea. Known as "water giant panda", it is a kind of key protected animal at the national level.
• Seabed Tour – You will be able to have a exploration tour to the underwater world by walking along a subsea tunnel.
• Whale and Dolphin Bay – It is a place to watch dolphins and sea lions. Dolphins and sea lions live and are trained here.
• Marine Theater – it is one largest of Marine Theater in China, with more than 3,000 seats in the theatre. There are wonderful dolphin and sea lion shows every day.
After entering the aquarium, you may tour the different areas along with sign directions. It will takes about 3 hours to tour the whole museum.

How to Get to Beijing Aquarium
It is quite convenient to get to the aquarium by public transport in Beijing downtown. You may take Subway Line 4 to Beijing Zoo Station, then get there by walking. Or you may take Public Bus Route 16, 26, 103, 105 to Beijing Jiaotong University Station, and then get there by walking.