Guandu Ancient Town (Chinese Name: 官渡古镇) located at south-east suburb of Kunming, is one of the famous historical and cultural town. It is one of the birthplaces of Yunnan Culture, and also one of the main historical and cultural landscape of Kunming tourism. As early as Nanzhao Dali Kingdom, It had already been a large market and important transportation hub at the north east lake bank of the Dian Lake. Guandu Town used to be a fishing village during Tang Dynasty. The ancient Guandu is an ideal place for appreciating the beauty of the Dian Lake.
What to see in Guandu Ancient Town
Guandu Ancient Town is located in Luofeng Village, 8 km away from southeast suburb of Kunming City.
"Ancient Ferry and fish lantern" is one of the eight famous scenery in Guandu. In ancient times, at the east bank of Dian Lake, the fishing lanterns would light up the bank at night which was very beautiful at night.
Except for 8 sceneries, six temples, seven pavilions and eight shrines, there are also 3 treasures: Guandu block bait, Guandu rice noodles and peameal, which are also famous snacks in Yunnan.
Five Mountains: Luofeng Mountain, Yuntai Mountain, Guanyin Mountain, Xujia Mountain, Zhuangjia Mountain
Six Temples: Miaozan Temple, Fading Temple, Guanyin Temple, Wugu Temple, Randeng Temple, Feiliang Temple
Seven Pavilion: Wenming Pavilion, Linyun Pavilion, Kuixing Pavilion, Doumu Pavilion, Yuhuang Pavilion, Suoshui Pavilion, Pilu Pavilion
Eight Shrines: Tuzhu Temple, Yuewang Temple, Confucian Temple, Temple of Goddess, Taiyi Temple, Land Deity Temple, Huosheng Temple, Wu Temple

Best Time to Visit the Ancient Town
Kunming do not have harsh winter nor hot temple, and is reputed as "Spring City. " Belonging to the humid temperate type plateau monsoon climate, the average temperature of a year here is around 15℃. With the title of City of Eternal Spring, Kunming is a destination suitable for travelling throughout the whole year. However, the best time to visit Kunming is from March to October. One can find a lot of Yunnan ethnic celebrations during these times in addition to many fruits and blossoms within this period of time. Because of this, visiting within this time will take you the most enjoyment and delight.
History
"The first of six temples" in Guandu–Miaozhan Temple was built in the from the early Yuan dynasty to Yuan twenty-seventh year (1290), was completed in 1295, after being flooded it became collapsed, and in 1325 relocated in the middle of the town. In the temple there is the east, and the west two 13 floors solid square brick tower with thick eaves. Later, west tower was destroyed by the earthquake and the east tower maintained today. Among Guandu Ancient Town religious buildings, the most famous and the most impressive is in front of the national key cultural relics protection unit Miaozhan Temple, Vajra-Base Throne Tower.
Guandu is the first place of Tibetan Buddhism bring into the area of Kunming, the stone pagoda of Miaozhan Temple has left a Tibetan tantra stupa impression deeply, it vividly reflected on lama tower style. Dazhengjue Temple, Temple of the Azure Clouds in Beijing and Ciyun Temple Vajra-base pagoda in Hohhot built later are typical Chinese type multilayer the pagoda of tight tiles.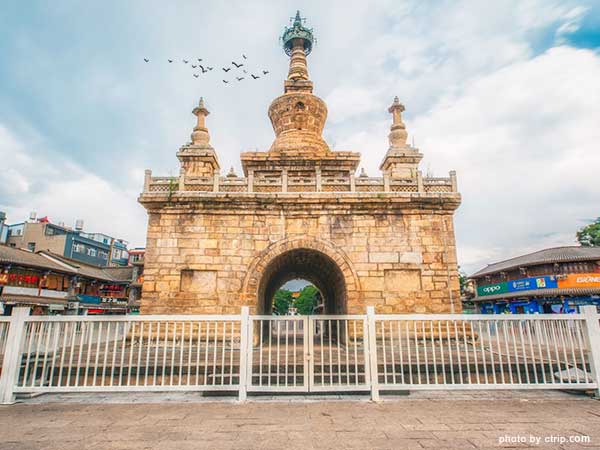 In Yuan dynasty, Confucius Building also established in Guandu, which has a far-reaching influence on Guandu juniors' reading. Later, the famous scholar Wang Sixun walked out from here. Wang Sixun is Jinshi (a successful candidate in the highest imperial examinations of Qing dynasty) in 45th year of the reign of emperor Kangxi (1706), he held the post of Jiangxi learning official, and also became the Emperor Yongzheng's teacher, and once Emperor Kangxi gave him thousand rolls of books. After Wang Sixun returned his hometown in glory, he built Cishu (Given Books) Hall to collect books. Cishu Hall still remains today.
In Qing dynasty, within the scope of the Luofeng, Xiuying, Xizhuang and Shangyi four villages in Guandu Town has formed architectural complex which was permeated with thick culture of "six temples, seven pavilions, and eight shrine temples". These spectacular architectures were in the integration of natural scenery, constituted a beautiful picture and formed the so-called Guandu eight sights, namely "the Ancient Ferry Fishing Lights", "Range upon Range of Luofeng Peak", "Yuntai Moon Shines", "Shepherd in the Apricot Nursery", "The Smoke Wreathed upward Reach the Clouds", "South of Yunnan Lawn", "Buddha's Guardian Warriors Night Words" and "Writing the Vault of Heaven".
But, as the years went by, lake shoreline retreated and great changes have taken place in the natural landscape of Guandu. Ancient temple architecture gradually became old and tumbledown, some even been demolished, the famous Vajra-Base Throne Tower caved in for more than one meter, the throne tower also formed a huge crater. In April 2001, Guandu town construction of cultural monuments rescue project started working, after more than two years of hard efforts and due to different levels of government spend large sum of money on this project, 1350 tons of Vajra-Base Throne Tower was lifting 2.4 meters, and Miaozhan Temple and West Tower was rebuilt, the Confucius Temple, Guanwu Temple, Cishu Hall, Fading Temple, Local-Guard Temple, Guanyin Temple and ancient building such as upper and lower attic was repaired. The town's traditional local-style dwelling houses are planned to repair, at the same time, folk and traditional folk cultural activities and traditional local flavor snacks are gradually restored, the protection of the natural ecological environment is also in the pipeline. We get a old and the young new Guandu contact with brilliant long history and glorious future.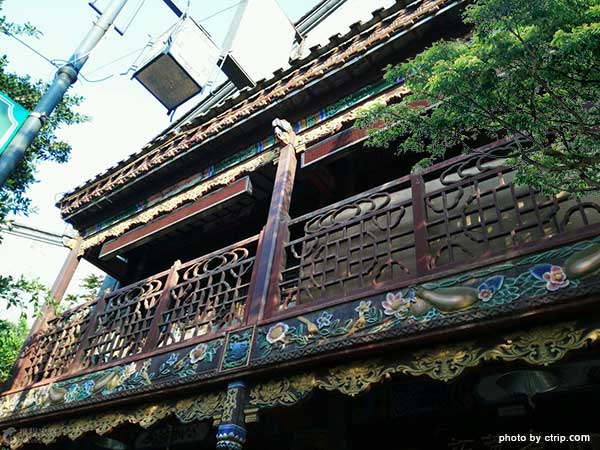 Notice
1. There is stronger sunlight during the daytime in Kunming, tourists have better take along sunscreen and sunglasses. Also people should drink more water and eat more fruit to prevent dehydration.
2. Kunming has a saying of "Wearing the same in the four seasons" which means that Kunming has the two extremes that the seasonal variation of four seasons are change little or unable to distinguish the four seasons are the wearing characteristics of Kunming. So you can see different season clothing in the street.
3. Mobile phones in kunming city have very clear signal, if you leave the city, the problem is not big, unless it is in the mountains like gold base garden behind the Expo Park, for example, there might be interrupted signal. And net bars in Kunming can be seen everywhere.
How to Get to Guandu Ancient Town
You can take bus No.31 in the railway station to Guandu Ancient Town, or taking bus No.165, 169, 174, 185, 908, Kunming C74, and K15 to there.