On July 31, Jeb Corris, known as "flying man of wings suit" in America, accomplished his first pilot flying in presence of crowds of tourists on Tianmen Mountain, Zhangjiajie. He had already visited here and determined the flying route on July 30.
It is reported that the flying with wings suit today from the ropeway car is the first time in the history of flying, and thus the difficulty and magnificence are beyond imagination. In the morning, Jeb jumped from the lift car of ropeway and arrived at the expected landing spot after flying for about two minutes. The flying site for the afternoon was on the eastern sharp cliff, which is much higher than that in the morning.
The pilot flying undoubtedly prepared the necessary experience and data for the formal flying scheduled on September 24 and also explored the flying route in advance for his companions who will fly with him on Tianmen Mountain. In the coming two days, Jeb will continue to explore the jumping point and flying route in Tianmen Mountain.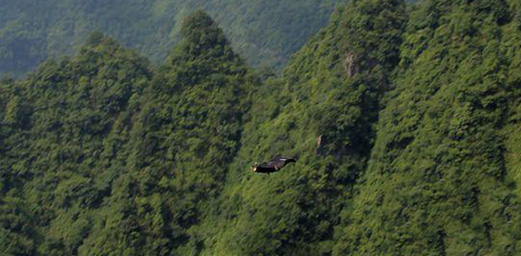 Source: Hunan Official Web Portal