Expressway of First Empire Cultural Tourism Scenic Area is located in Hantai Town of Dongsheng District in
Ordos City, covering an area of 10 square km, and with and controlling area of 30 square km. It was constructed by Donglian Holding Group of
Inner Mongolia based on historical and cultural resources of the Expressway of Qing Dynasty.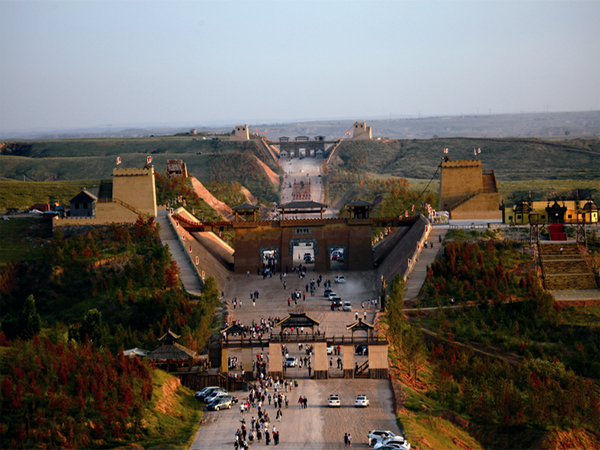 Expressway of First Empire
Expressway of First Empire is a expressway starting from Jiuyuan(the southwest of Baotou City) extending south to Ganquan(Chunhua County of Xianyang) built during 212BC to 210BC in Qing Dynasty. It ran for about 700 km. For building a straight road, workers dug mountains and filled the valleys, hence it named as the expressway. The expressway in Dongsheng is about 20 km, and is the best preserved section and the unique national key cultural relic's protection unit.
Layout of the Scenic Area
The culture of Expressway of First Empire Cultural Tourism Scenic Area is rich in content and in various forms. With the expressway culture as the theme, it is features by the frontier culture of Qing and Han Dynasty and Huns culture, which called "One Way, Two Buildings, Three District". One way means the imitate expressway, Two Buildings are Ganquan Palace hall and Jiuyuanjun Gate Tower, and three districts are district of frontier culture Qing and Han Dynasty, Huns culture district and Expressway Performing Arts Plaza. The imitated Expressway of First Empire is 3.8 km long, 30 m wide, and copied the military installations such as beacons, barriers, pavilions, stages and traffic nodes, reappear the grand historical landscape. Ganquan Palace Hall covers an area of 390 square meters, and features by geothermal hot spring type high-end resort hotel and high-end performing arts center. Jiuyuanjun Gate Tower is a typical Qin and Han dynasties sand-layered column pavilion style building. Qin and Han Frontier Culture Park shows the farming culture along the Great Wall. It has cave buildings, farming folk customs, frontier fortress site activities such as art, border trade. Huns Culture Park is featured by ecological nomadic culture on grassland. Expressway Performing Arts Plaza is the place for holding grand opening, square role-plays, summer bonfire parties and other activities.
Layout of the Scenic Area
There are lots of tourism activities in Expressway of First Empire Cultural Tourism Scenic Area. It boasts Hun Culture Museum, Expressway of First Empire Calligraphy and Painting Art Museum, the 10th Anniversary of Donglian Exhibition hall, Ganquan Palace Painting Theme Hotel and Qin and Han Dynasties Courtyards, the Huns'
Khan Palace Hotel, 4 D Cinema, slippery pasture (under construction),Drive-in Theater and other modern amusement projects.
Self-driving Routes
Drive to 109 National Road from Dongsheng West Exit, and then drive 15 km towards west after passing by the Hantai Town. You will see the Jiuyuanjun Gate Tower. Follow the guideboard and the expressway to the scenic area.