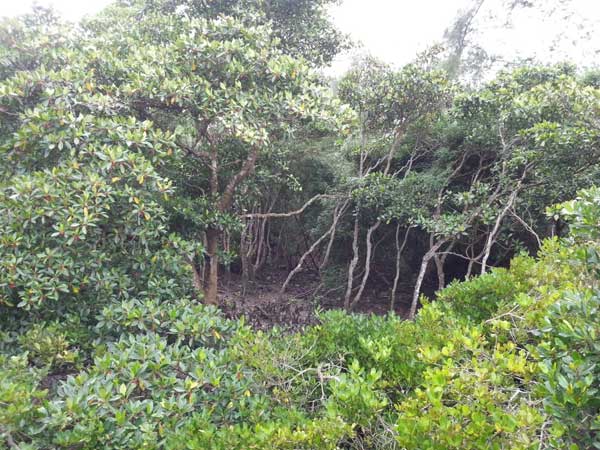 Hainan
Dongzhaigang Mangrove Nature Reserve(Chinese name: 东寨港红树林保护区) in the northeastern area of Dongzhai port of Qiongshan city, which is the first established and largest mangrove reserve in China. Dongzhaigang Mangrove Nature Reserve, about 30 kilometers from the city centre, 12 km away from Haikou Meilan International Airport, the geographical area span of
Haikou Meilan district Yanfeng town, Sanjiang Farm, Sanjiang Town, bordering
Wenchang city Luodou farms, with a total length of 84 km. The mangrove tree, also known as "forest above the sea", is a kind of tropical tree, growing in swampy ground along sea coasts and river banks. In 1980, China's first nature reserve was established there by the local government, with a total area of 4,000 hectares. Besides containing mangrove forests, the area is also home to many rare birds, attracting lots of biologists and travelers visit there to discover the reserve's unique flora and fauna.
Characteristic
Hainan Dongzhaigang Mangrove Nature Reserve because of sinking into the sea therefore shaped like a funnel with winding coastline bay, lagoon beach is flat, and mangrove distribute in shallow water along the coast, with a total of 16 families 32 species.

The mangrove plants grow all year round in the water, rowing the boat into the twisted mangrove "corridor" is like entering the dreamland. Mangroves, sun, sea, beach, seafood products and ancient sites in Ming dynasty, constituted the area's landscape. Mangroves are characteristic of the plant community on tropical and subtropical coastal mudflats and have a nickname of "oasis above the sea", "forest park on the sea".
Geography
Dongzhaigang is formed in more than 300 years ago, that is, in a earthquake in 1605 formed by ground subsidence, therefore shaped like a funnel with winding coastline bay, lagoon beach is flat and represent a ladder shaped. The ditch is full of water at tide, beach surface is submerged; when fall of tide, beach surface form a split broken swamp. Mangrove is distributed on the coastal shoals. Coastal areas is brackish marshes, depth of bay water is generally within 4 meters, water chlorinity as high as 33.44%, the lowest was 9.3 ‰, with an average of 21.86 per thousand.
Climate
Reserve belong to tropical monsoon climate, with an annual average temperature of 23.8
℃ (average 28.4 ℃ in July, average 17.1 ℃ in January), annual rainfall of 1700 mm. In the rainy season are many typhoon, winds and heavy rain. The highest seawater temperature is 32.6 ℃, lowest is 14.6 ℃, for average 24.5 ℃.
How to Get to Dongzhaigang
There are 30 kilometers away from Reserve to Haikou, you can go there by land vehicle or by water vehicle, and the transportation is convenient.

Take minibuses in Qiongshan Fucheng Chinatown for 7 Yuan, after arriving Yanfeng, take tricycle to the Dongzhaigang for five Yuan as price.

Or you can take No.4 tourist bus directly on Haikou, get off in the stop Dongzhaigang Mangrove.