Dianchi
Lake is the largest freshwater lake in the southwestern
Yunnan
province, where known as the plateau pearl. Four surrounding hills contribute to the picturesque landscape, making visitors intoxicated and linger around. You may appreciate the beauty of the lake and hills from a boat, and explore this cradle of Yunnan culture.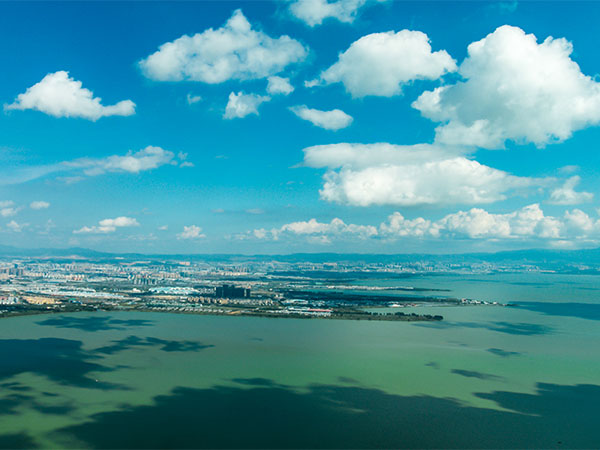 Dianchi Lake is fault Depression Lake due to earthquake; it looks like a crescent moon. Standing on the Dragon Gate and looking down from the heigh, you can have a panoramic view of Dianchi Lake. Visitors will also be able to have the pleasure-boat scene in the Dianchi Lake. Along the lake, there are attractions like
Western Hill Forest Park, Buddha mountain,
Grand
View Tower, Haigeng Park,
Village of ethnic culture, etc. Unfortunately, the lake has been badly polluted. Although efforts have been made to save the lake, they have been largely unsuccessful.
Attractions
Haigeng Park Haigeng park is in the northeast of Dianchi Lake, is about 7 km from Kunming city. Haigeng Park is the long beach stretch into Dianchi Lake and here weeping willows spread along the river bank. The beach in the south of Haigeng is a piece of soft white sand beach. The water is from the shallower to deeper and it is a natural lakeside natatorium. Come here in summer to swim, play water, and enjoy the cool of water, which are very comfortable. And there is a new Yunnan Village of Ethnic Culture here, visitors can go to visit and appreciate the Yi, Dai, Bai nationality and interesting folk customs.
White Fish Park (Baiyukou Park) Located in the southwest of Dianchi Lake, is a famous beauty health resort in Kunming. Ther are many attractions here what are elegant and charming. Overlooking the lake, you can see white sails of boats on the glistening lake and gulls skimming over the waves. In spring, the cherry trees are in blossom, adding luster to this serene place.


Travel Guide
【How to Get】 The transport here is very convenient, and you can try to take bus there. Bus Taking No.24, No.44, No.73, and No.94 bus to Haigeng Park stop, the fare is 1 Yuan. Passenger car There is special line for traveling to Dianchi, you can take that car in the city center.


【Best time】 November-January Every winter, there are hundreds of thousands of black-headed gull gathered here only to spend winter, flying black-headed gull on the surface of the lake become one big landscape of the Dianchi Lake in winter.






【Recommended Itinerary】 You can first go to Western Hill Park for a short visit and then take cable car from Dragon Gate, the ticket is 30 Yuan; or you can take boat from Grand View Tower to Dianchi.


【Recommended tour time】 2-3 hours