Dapeng Peninsula close to the Daya bay in the east, bordering on Huizhou, embraced Dapeng Bay in the west, facing New Territories,
Hong Kong in a distance, with a land area of 294.18 square kilometers, coastline for 133.22 km long, and the forest coverage rate of 76%. It has the unique scenery, rich tourism resources, rich human resources and obvious location advantages and great development potential. Due to the strictly protection of ecological resources, Dapeng Peninsula become the largest and most preserved ecological paradise in Shenzhen city area. Located in the southeast coast of
Shenzhen, between the Mirs bay and Daya bay, mainly refers to Dapeng, Kuichong, Nan'ao, where is the "gold coast" in Shenzhen. Dapeng Peninsula including the northern peninsula, south peninsula and its neck connection zones, what shaped like a dumbbell. The scenery is characterized by the ancient volcanoes and coastal landscape, with forest coverage of 76%. And there are Qiniang Mountain, Paiya Mountain, Hengya ridge peaks. Main attractions include geological park Dapeng Peninsula, Dapeng Mountain, etc.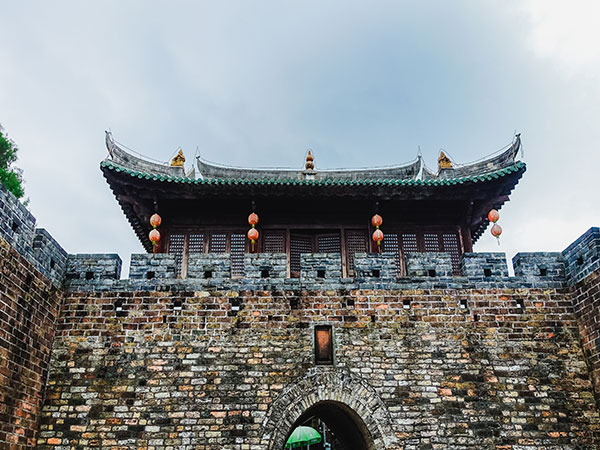 Peninsula surrounded by sea on three sides with many strange and special shaped rocks, distribute along with a dozen of large or small beaches, such as Jinsha Bay (Golden Sand Bay), Xichong, Dongchong, etc. The soft sandy beach belong to the fine sand, bay water depth is larger, which makes the Dapeng peninsula beaches become a place for surfing, sailing, serve for even more and more sport lovers to try new sports.

Peninsula have Jingxin Reservoir, Fengmulang Reservoir, Damali Reservoir and so on more than 20 small reservoirs, and there are tens of rivers like Queen Mother River, Xichong River, Dongchong River, scenic spots and historical sites are the Queen Mother temple and Dapeng Defense City and so on.
Characteristic
Dongchong and Xichong is located in the end of south of Shenzhen Dapeng Peninsula, and 70 to 80 km from the city, and is only 15 minutes apart Dongchong administrative villages is composed of six natural villages, local people is less than 500 people in the village, which is the only village without provincial highway in Shenzhen. Xichong administrative villages is composed of eight villages, the villagers make a living by farming and fishing. Lie in Qiniang Mountain, two seaports of the clear water and sand are known as a paradise for Shenzhen by tourists, and the village of seafood tavern also make visitors lingering. So far, there are not many people visit to Dongchong and Xichong, therefore fishers enjoy the wonderland of the two seashores. White sandy beaches, blue sea water, due to there are not being developed, Dongchong and Xichong sceneries have the most primitive and simple natural beauty where is the "gold coast" in Shenzhen.

Peninsula has a coastline of 133.2 km, mostly are granite mountains, surrounded by sea on three sides. There are steep the deep valley, numerous mountain peak, and along the Dapeng Peninsula coast distribute with large and small a dozen beaches.


Transport
As Yanba High Speed Road and Pingxi Fast Speed Road have been built, the traffic conditions in east coastal areas are greatly improved. The Highway is greatly shorten the distance and time space of eastern coastal area of Shenzhen city, and Pingxi expressway make rapid transit way extend to the key place of Dapeng Peninsula-Xinda (only 8.5 km from Xichong). But no water or air transportation can directly associated with central city downtown or other beach, there is only a double lane road leads to Xichong, and from the city center to here will takes nearly 1.5 or 2.0 hours drive from here, go to Naao town needs 20 to 30 minutes.