Centering around Chuanshan Hill (穿山 chuān shān), Chuanshan Park (穿山公园 chuān shān gōng yuán)is developed and built in the southern part of Guilin. It is regarded as one of the beautiful city park in Guilin, covering an area of 2 square kilometers. Chuanshan Hill just faces the Elephant Trunk Hill across Li River. There is another small hill between Chuanshan Hill and Elephant Trunk Hill. It is Pagoda Hill, which is in front of Chuanshan Hill. This hill is called Pagoda Hill is because there is an ancient Buddhism pagoda on the top of it. The part includes Chuanshan Hill, Chuanshan Cave. Moon Cave and Pagoda Hill.
Chuanshan Cave(穿山岩 chuān shān yán)
There are 2 caves in Chuanshan Hill. They are Moon Cave and Chuanshan Cave. People need to climb to the hillside to get into Chuanshan Cav. The cave was formed irregularly in 34,000 years ago with 1531 meters in length totally. The main cave is 348 meters long and 3-5 meters wide. The widest part and highest part of the cave is about 30 meters. People discovered and developed this cave from 1977. Although you will find it tortuous and loopback when you walk into the cave, it looks colorful and beautiful with the lights and your imagination.

Pagoda Hill (塔山 tǎ shān)
Pagoda Hill is located between Li River and Xiaodongjiang River, facing Chuanshan Hill across Xiaodongjiang River. It is a small hill, with only 194 meters in height. This hill connected with Chuanshan Hill hundreds years ago. It becomes an individual hill because of the crustal movement. The pagoda on the top is bricky, 13.3 meters high, with 8 angles and 7 layers. Pagoda Hill looks like a ship sailing in Li River if seen in distance. Locals also call it Warship Hill. As there are many maple trees in Chuanshan Park, Pagoda Hill and red maple leaves in autumn is the finest view in Chuanshan Park.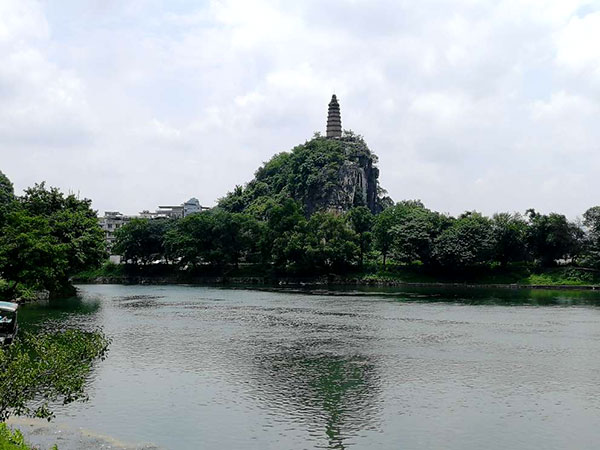 Moon Cave (月岩 yuè yán)
Moon Cave is just at the hillside through the west part of Chuanshan Hill. The cave is round like a moon through the hill. The cave is about 9 meters high, 31 meters long and 13.3 meters wide. While tourists stand in the cave, they could overlook the winding Li River and splendid city view.