When you come to Yuanjiajie Scenic Area, Zhangjiajie City, you will be attracted by the "Padlock Mountain" comprising many love padlocks near to the No.1 natural bridge in the world.
These charming padlocks are hung on the trees or rocks, conveying some emotion. Numerous Tourists buy the padlocks from stands here, and make a wish for health or happiness. Those sweethearts will buy two padlocks to symbolize their everlasting love.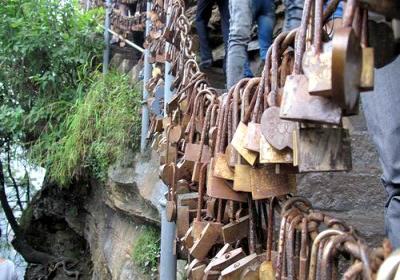 Now, tens of thousands of love padlocks have become a favorite scenic spot of tourists from home and abroad. According to a seller, the price of a lock ranges from 25 to 200 Yuan in peak season, which is very popular with tourists.