Bingling Thousand-Buddha Caves (Chinese name: 炳灵寺石窟), also called Bingling Grottoes, are a famous religious attraction in
Lanzhou, ranks the second after the Mogao Grottoes in Dunhuang. At some point the caves were named the Thousand Buddha Caves because Bingling means "ten thousand-Buddha" in the Tibetan language, despite the fact that there have never been more than 200 grottoes.



The first cave was built here in 420 AD, by daring Buddhists who descended from the cliff on ropes to carve their masterpieces. Although the cave complex was enlarged gradually over many centuries, it is the work of both the Song (960-1279 AD) and the Ming (1368-1644 AD) Dynasties that remains most impressive. The temple was, in-between these golden years, to become a Tibetan Monastery (in the Yuan Dynasty, 1271-1368 AD). Within and on the cliff are a series of winding walkways and stairs that will lead you around the site.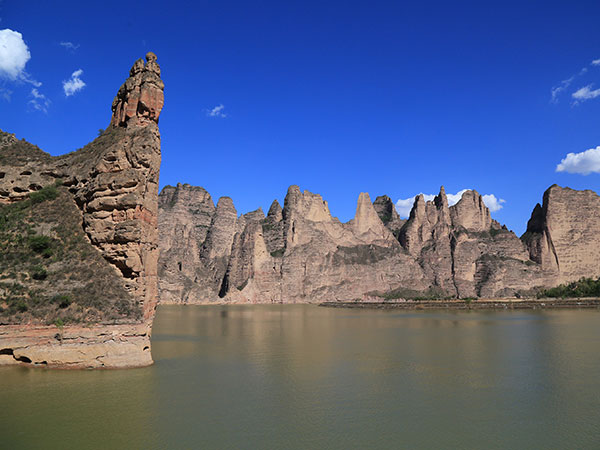 The stone sculptures in Bingling Thousand-Buddha Caves represent the social situations and customs during ancient times. In the vicinity of the caves are green hills, crystal-clear water, grotesque stones and precipitous cliffs, which add more beauty to this artistic site. After the founding of People's Republic of China, the State Council designated the site as a key cultural relic, and placed it under state protection.
Bingling temple grottoes located in Yongjing county Jishi Mountain 35 kilometers southwest of Gansu province, is one of the famous Chinese grottoes, belong to national key cultural relics protection units. The grottoes were built in Western Jin dynasty, went through Northern Wei, Sui, and Tang dynasties, Wei dynasties, each dynasty had repaired and expansion of the grottoes. In 2012, the number of existing grottoes were 183, total 694 stone statues, 82 clay sculpture and murals of about 900 square meters Grottoes is one of Chinese buddhist grottoes, divided into upper temple, hole, and down temple three places, and down temple is the most spectacular. Located 35 kilometers southwest of Yongjing county. Bingling temple in Wei and Jin dynasties was called Tangshu grottoes, called Lingyan Temple in Tang dynasty and called Bingling Temple in Song dynasty.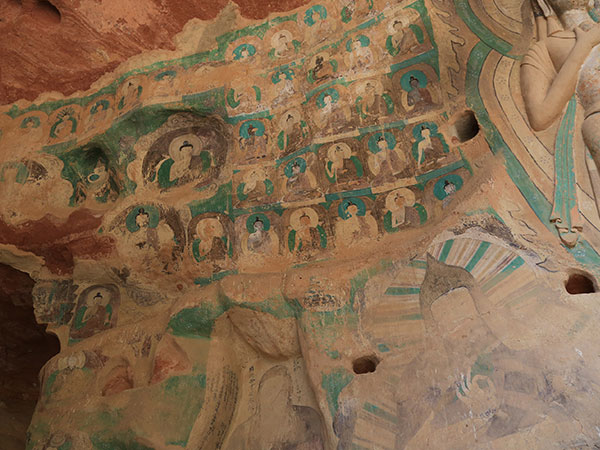 How to Get to Bingling Temple
The Bingling Caves are quite far away from Lanzhou and can only be reached by boat via the Liujiaxia Reservoir. First you should take bus from Lanzhou to Liujiaxia Dam (about 80 miles, 1 hour driving for 12 Yuan), and then you can take boat to Bingling Temple. Boats leave from near the Liujiaxia Dam in Liujiaxia City, and sometimes also from other docks on the reservoir. The whole cruise will take 2 hours for 10 Yuan a person. Round way needs 8 hours. But if you take speedboat, it will take you 3 hours of round way. And the Bingling Caves only can be reached during summer and autumn because in the rest of year the boat will not be operated and there are no any roads can access to Bingling except water way.