Bifengxia Valley is 8km away from Ya'an city, on the southwest of Chengdu. Ya'an is the very place where the panda was first found in China. Since the 2008 Wenchuan earthquake, many pandas have been moved to Bifengxia from Wolong and other places, including the famous Tuantuan and Yuanyuan given to Taiwan.
Now that it has been selected as China's latest giant panda protection base, Bifengxia has a new role to play in altering the destiny of the endangered species. Pandas will be returned to nature after they have been given relevant training in simulated wild environments. At up to 1,200 meters above sea level, Bifengxia is under the jurisdiction of Ya'an City. In the dense broadleaf forest with singing birds and murmuring streams stands a big gate with the image of a lovely giant panda carved on it, marking the entrance to Bifengxia Giant Panda Base. Walking through the gate and along the meandering mountain slope for a while, visitors can see several European-style cabins made of bricks and tiles. These are the pandas' homes.
Bifengxia was planned to house mostly sub-adults not yet in the breeding program and senior pandas, too old for breeding. However, a small breeding area was constructed in addition to the hospital.
In 2008, there were 13 baby pandas surviving in the Bifeng Gorge Base. On Feb.12nd, 2009, the base held a simple ceremony for these small pandas as they attended the panda kindergarten. It is known that the giant pandas, who temporarily live in the base, will return to the Wolong National Natural Reserve after its restoration in two or three years time.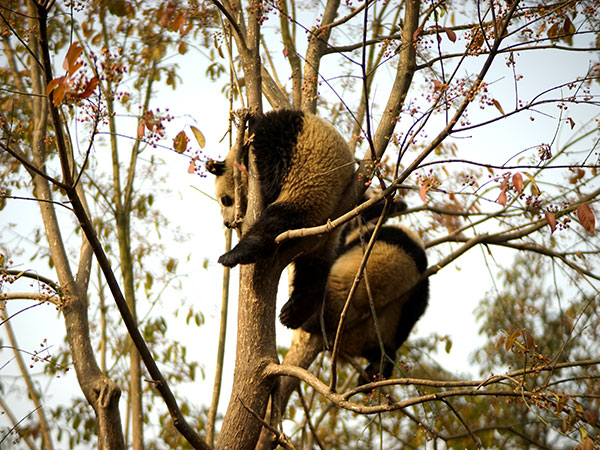 Structures
Bifengxia Base is divided into areas of giant panda feeding, breeding area, district of scientific research, office of several major functional areas. Since base has been opened for visiting, the base carry out work closely around the panda breeding and propaganda education work, and to do a good job of rescue operation of neighborhood wild giant pandas at the same time, give full play to breeding, care, research, popular science education, and comprehensive functions of the base. On the premise of stable giant panda population, the base will enlarge the existing giant panda population by 3-5 years of efforts, providing more genetic diversity and artificial breeding individuals for releasing into the wild, eventually achieve the purpose of protection and saving the Bifengxia base, here has become the core region of China giant panda protection and research.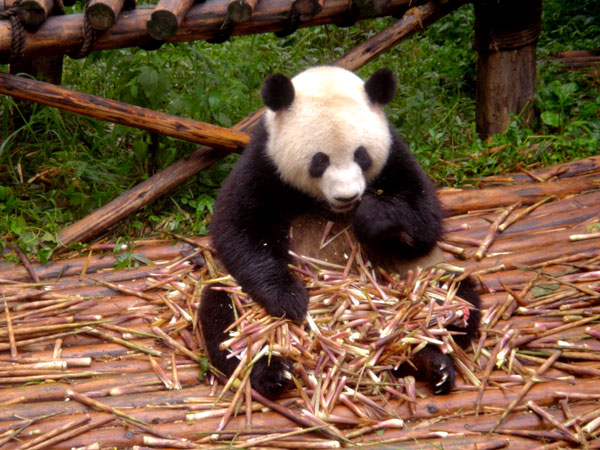 【Luxury Panda Villa】 Ya'an Bifengxia is a national AAAA level tourist scenic spot, 1 hour driving from Chengdu, although only one hour's drive, the sight is very different from Chengdu plain. Here are high mountain forest, valleys and birdsong flowers, where is a good place for summer leisure for C
hengdu citizens. The Bifengxia Panda Base is located at an altitude of 1100 meters to 1200 meters of the valley.

Taking vehicle inside the Bifengxia Base pass through the Danxia geological structure of the red sandstone long corridor, and enter into the "人" glyph door which engraved with panda modeling and that is the home of the panda. Walking along the winding mountain, soon people will see flickering tiles of European cottage, scattered between the forests. Surrounded 20″luxury villa" in different shapes, there is digging trenches in accordance with the terrain, and built walls around with no interference of visitors' view. Inside walls there is broad-leaved forest, bamboo, weed with thorns, covers an area of over 1000 square meters. Number of pandas is put to breed within the walls according to age, male, female and habit collocation.
【Four Functional Areas】 Bifengxia Panda Base is divided into front and back the two big areas, it has a giant panda breeding grounds, the giant panda kindergarten, giant panda hospital, the giant panda research and so on more than 20 laboratories and places. And there is transplanting six or seven bamboos that pandas like eating. Panda range field is ten times larger than the Wolong Centre, mountain, forest, bamboo, water rely on each other, and with breeding and scientific research personnel, it reflects a kind of natural atmosphere of "panda, bamboo and people".

Bifengxia Panda Base starts to construct on October 18, 2002, the total planning area of 6000 mu, three phase of construction in all. The base of first period that put into use after "5.12 earthquake" covers an area of 1047.4 mu, divided into breeding area, wild training area, bamboo base area, office life four big functional areas, more than 100 staffs to serve more than 70 giant pandas day and night.

Bifengxia Panda Base is branch of Wolong Giant Panda Protection and Research Center of China, but it is now a set of giant panda breeding scientific research, publicity and education and ecological tourism as one of the world's largest free-range type panda ecological garden.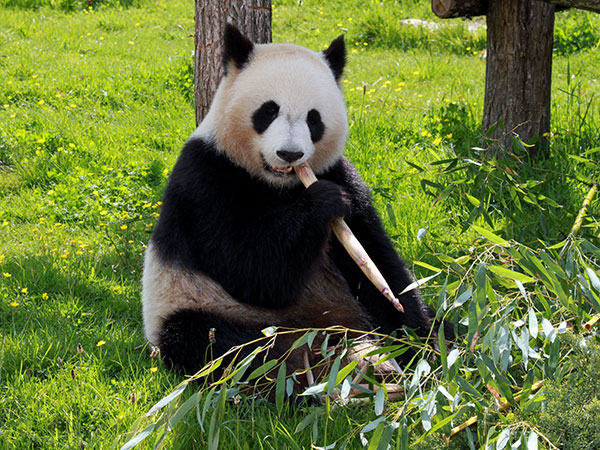 How to Get to Befengxia Panda Base
It takes at least 5 hours of round way from Chengdu to Bifengxia. Tourists can take bus in Chengdu Yangchang Bus Station to Ya'an (departs from 7:00 to 17:00, every hour a bus), and about 1.5 hours to reach Ya'an Tourist Bus Station. Then take bus from Ya'an Tourist Bus Station to Bifengxia Panda Base, which takes about 1 hour.